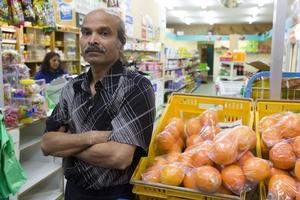 It was a 30cm dent to a car.
But Bio O'Brien was so enraged about it that he hauled 78-year-old Jasmatbhai Patel from his vehicle and beat him about the face - and then pushed the older man so hard he fell and cracked his head open on the kerb.
Mr Patel died in Auckland Hospital the next day from head and brain injuries, and yesterday O'Brien pleaded guilty to his manslaughter.
The Auckland District Court heard that 28-year-old O'Brien and Mr Patel were involved in a minor collision as they jostled for position on a busy Carrington Rd during peak traffic about 8am on April 7.
After the collision O'Brien got out of his black BMW and opened the door of Mr Patel's blue van, unfastened his seatbelt and pulled him onto the road.
An argument erupted with Mr Patel trying to calm O'Brien down but he grabbed Mr Patel and pulled him over to see the damage to his car.
As he did that he started to beat him about the head and face with his hands.
The assault happened in front of students from Gladstone Primary School who were standing across the road.
Mr Patel was tall and slim and O'Brien - a student at Unitec - was short and stocky.
Gripping Mr Patel by the shirt, O'Brien pulled him towards him and pushed him away, causing the pensioner to rock back and forth, ripping buttons off and bruising his chest.
As Mr Patel tried to back away with his hands out to protect him, O'Brien continued to hit him. He eventually let him go but then pushed him with both hands in the chest, sending him tumbling over backwards.
Mr Patel hit his head on the kerb, fracturing the base of his skull and opening a head wound which, along with his left ear, began bleeding profusely.
When O'Brien saw how seriously Mr Patel was injured, he tried to pick him up but he was unable to stand by himself. O'Brien moved him to a grass verge where he laid him down.
Members of the public stopped to give first aid while O'Brien paced backwards and forwards on the grass.
Mr Patel's family said yesterday's guilty plea had brought "half" closure.
George Patel, Mr Patel's son, said not a day went by when he did not think of his dad.
Sitting out of sight of the dock, George Patel said he saw no sign of regret in his father's killer.
"It was the first time I see him, but I didn't see remorse on his face," he told the Herald.
He said he never wanted to meet O'Brien and prayed for a maximum period of imprisonment. He had faith God would see justice done. "I believe in God, whatever he can do."
He said it had been a long, drawn-out court process for the family since his father died in hospital on Wednesday, April 8.
Family members were still devastated by the loss of a man they say left a legacy of "hard work and honesty".
The violent nature of the patriarch's death made it terribly difficult to move on, his son said.
"Whenever I see pictures of fighting or crime I realise that is what my dad went through ... the same situation ... bloodied to death," he said.
"Every single day I remember, it is very hard ... I will never be able to see him again, it is very hard."
George Patel said the grandchildren missed his father terribly. "He was a counsellor to the children, wanted them to have the best in life."
He said he would definitely attend the sentencing at the end of September and that other family members might join him.