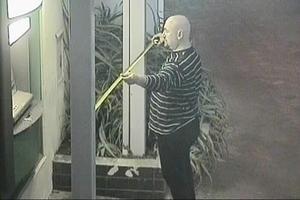 Police in Dargaville would like a word with an unknown man pictured sizing up the access to a banking machine.
Security camera photos supplied by one of the major banks in the town show the man with a tape measure across the opening to the ATM in its wall.
The figures he obtained were clearly important, as he wrote them down on his clipboard. Local police do not know who he is or why he was there.
The man was snapped on Wednesday, June 17, between 7.30pm and 8pm. Sarah Kennett, Northland police communications manager, says no one in the bank recognised the man and usual sources of information, such as police bulletin boards, have drawn a blank.
"If he was there for something dodgy, surely it would have happened by now. The photos were taken over a month ago. And if it wasn't dodgy, why wasn't he doing it during business hours?"
If you know who the man is, call the Dargaville police on (09) 439-3400.