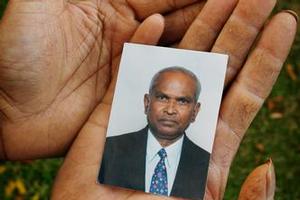 A student admitted the manslaughter of an elderly man in a road rage incident when he appeared in the High Court at Auckland today.
Bio O'Brien, 27, pleaded guilty to the manslaughter of 78-year-old Jasmatbhai Patel in April.
Van driver Mr Patel was attacked by O'Brien after what police called a "minor crash" with O'Brien's BMW outside Unitec in Carrington Road, Mt Albert.
Mr Patel was admitted to Auckland Hospital but died the following day.
The attack by the Unitec student was seen by dozens of horrified school children.
O'Brien, from Tuvalu, was remanded in custody until sentencing in the High Court at Auckland on September 29.
A woman, who said she saw it from a nearby bus stop, gave her version of events to the Herald shortly after the attack.
She said at the time: "It was a terrifying sight. One minute it was a verbal argument, then suddenly the victim's chest was covered in blood and his eyes had rolled to the back of his head.
"Witnesses got out of their cars to try to help, and teachers from the nearby school came as well. I was standing at the bus stop directly opposite, so I saw the whole thing."
One young witness to the attack, Adel Imran, also gave One News a vivid account of the incident at the time.
"A van came and smashed the BMW - just a little dent - and then the big bodybuilder man pulled the van's door and pulled him out and started pushing him.
"He tried to tell him that 'I will pay you for this', but he gave him quick punches.
"Heaps of people were calling the police 111 and then police arrived and then when we were at the bus we saw him handcuffed."
- NZPA, NZ HERALD STAFF