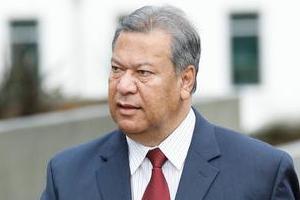 Taito Phillip Field had been naive and his business affairs could be "shambolic", but that didn't mean the former MP was guilty of corruption, accepting bribes and perverting the course of justice, his lawyer said yesterday.
For Field to be convicted on the charges he faces, jurors would have to believe the Crown's assertions that he'd abandoned a lifetime of public service to act dishonestly and corruptly, Paul Davison QC said in his closing address to the jury at the High Court at Auckland.
"All his adult life he's engaged in selfless service ... and led an exemplary life. Suddenly, in September 2003 he put it all aside on what was to become a sustained period of criminal conduct."
He said if the Crown was to be believed, Field then took "further steps" to create false documents to avoid being found out.
Field strongly denies 12 counts of bribery and corruption as an MP and 23 counts of wilfully perverting the course of justice.
"What you must glean is Mr Field had made a remarkable change in the direction of his life that was wholly inconsistent with everything he stood for."
Mr Davison said Field had the ability to pay for any work needed on his properties so it didn't make sense for him to "abandon his principles to make some financial gain".
The lawyer said there was another explanation for the way Field acted and it was "nowhere near" what the Crown claimed.
"Mr Field, despite his long tenure of public office, was an unsophisticated person, a generous person, a kind person ... but a particularly naive person."
His business affairs were "loose and shambolic" with records not kept because his attention was fragmented by splitting his time between Wellington and Auckland.
He said an accusation he sheltered overstayers in return for free work on his house was "the very last thing that ever crossed his mind" when he offered them a place to stay.
Mr Davison said despite Field's political nous, he showed he was capable of making "unwise decisions and ill-considered actions".
When confronted with a media barrage he responded in a way that was defensive, with a hint of desperation or even panic, he said.
He told the jury they were being asked to accept Field knew the work the Thai migrants did on his home were being done as a bribe, in exchange for help with immigration issues.
"He has never admitted or acknowledged that he ever knew or appreciated that the Thai tradesmen were not charging, or that the reason was that they were using that as a bribe."
Field paid what he was asked to pay and didn't know all the work wasn't being charged for - and because he didn't pay attention to detail, matters slid, he said.
Mr Davison's closing address is expected to finish today.