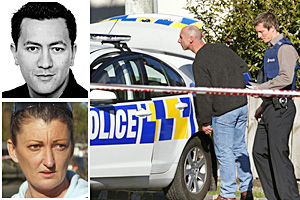 Friends of actor Rob Mokaraka - shot by police yesterday after reportedly threatening them with knives and a meat cleaver - say he didn't seem troubled and had recently returned from a successful international tour.
Mokaraka had performed to sell-out audiences in London with his play Strange Resting Places, a drama/comedy about the 28th Maori Battalion, set in Monte Casino.
He returned in May and had been working on writing projects ever since.
The 36-year-old was shot by police about 1pm outside his Pt Chevalier home after he advanced on them carrying the weapons.
Surgeons spent three hours removing a bullet from his chest and he was in a stable condition last night.
Friends told the Herald they didn't know what caused him to act like he did.
Actor Paolo Rotondo - who co-wrote and co-starred in Strange Resting Places - said he couldn't believe what had happened.
"I've been inside that house writing in there. I can't imagine that something went wrong."
They returned from London in May but had also toured the show in Asia.
"Rob was the comedian in the show, a real crack-up. He was a contemporary Billy T James."
They worked on the show for a long time and met through the theatre.
"This has come out of the blue - it's not something anyone could imagine he would do," Mr Rotondo said.
He planned to visit his friend in hospital, and said others were rallying around Mokaraka.
"There's a sea of support on his Facebook page. He could win an election at the moment, there's a lot of aroha and support coming his way."
An actor for 13 years, Mokaraka had appeared in many film, television and theatre roles.
Police had been called after a neighbour saw Mokaraka in an agitated state.
Auckland District Commander Superintendent George Fraser said Mokaraka advanced on police while they were off the property and waiting for the armed offenders squad to arrive.
Neighbours said police tried to reason with him as he waved the meat cleaver around. A towel covered what he had in his other hand.
When Mokaraka continued to walk toward them he was shot once in the chest. He could be heard screaming on the ground before he was taken to hospital.
Flatmate Linda Turner said she couldn't believe it was him.
"He's a nice guy, really placid and lovely."
She said Mokaraka had seem tired when he arrived home on Sunday after being away most of the weekend.
But she saw no sign that anything was wrong.
"It's totally out of his nature, he was acting strangely." Mokaraka was home alone when the shooting occurred.
Ms Turner said another flatmate had called her and told her what had happened.