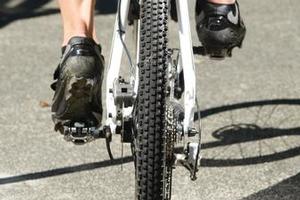 Prime Minister John Key is expected to announce today that construction will begin by summer on the first legs of his national cycleway, including a route from Lake Wakatipu to Bluff.
He will announce several trails for his "patchwork quilt" of a cycleway between Kaitaia and Bluff, on which the Government will spend $50 million over three years.
Details were unavailable last night, but Mr Key will announce the schemes to Local Government NZ's annual conference in Christchurch.
He will be keen to tie down the bottom end of the cycleway, especially as a Lake Wakatipu-Bluff route via towns including Finance Minister Bill English's home of Dipton is in advanced readiness after rosy studies of economic and tourism benefits.
Queenstown planner Mike Barnett, who researched those for Venture Southland, gave a "no comment" when asked if he expected the green light today.
Green Party tourism spokesman and cycling advocate Kevin Hague would not reveal anything other than confirming he would be in Christchurch for the announcement.
"I am sorry I am unable to comment but I look forward to commenting tomorrow," said Mr Hague, whose party has worked with the Government on the national cycleway under its memorandum of understanding with National.
Members of trusts working on North Island cycleways had yet to learn of any details but were looking forward to Mr Key's announcement.
Faced with jibes from Labour about the cycleway, the PM will be keen to harvest low-hanging fruit by supporting well-developed proposals.
Among hopeful recipients is the Waikato River Trails Trust, whose schemes for laid-off forestry staff have already formed 25km of cycleway sections between the Atiamuri and Arapuni hydro dams.
Trust chief Kelvin Hainsworth said it hoped to complete a trail for 100km between Atiamuri and Lake Karapiro in time for the World Rowing Championships next year.
Waipa District Council wants to create a trail from Karapiro to Cambridge by then, and the Brian Perry Charitable Trust is leading a group hoping to start building a cycleway soon along the Waikato River from Ngaruawahia to Hamilton.
Hauraki District councillor Mike Hayden said his council's delegation to Christchurch hoped to send back positive news for plans for cycleways along old rail corridors from Thames to Te Aroha, and Paeroa to Waihi.
Mr Hayden, a member of the Hauraki Rail Trust, said that could hook up with a cycleway down the Firth of Thames from Auckland across the plains to Kopu Bridge, for which Mr Key and Transport Minister Steven Joyce will turn the first sods for a replacement structure on Wednesday.
A Bay of Plenty group hopes to hook up with the Hauraki trail, to take cyclists to Tauranga and possibly Whakatane, before looping back through Rotorua to the Waikato River.
- ADDITIONAL REPORTING: Patrick Gower