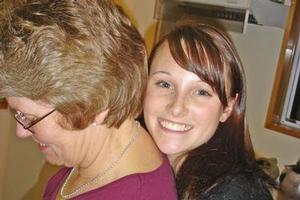 Clayton Weatherston should serve the rest of his living days in prison, says the mother of murder victim Sophie Elliott.
"He took Soph's life," Lesley Elliott said yesterday. "The most precious thing that all of us have is life. He took the most precious thing from us, that was our daughter and sister."
Lesley Elliott and husband Gil decided this weekend to keep Sophie's ashes, encased in a brightly-decorated blue wooden box, to be interred with them when they die.
Sophie's mother hugged Weatherston's mother and sister after the verdict, but she can never forgive their son for robbing her of her daughter.
"For that I think he needs his life to be taken. I don't mean capital punishment. My thoughts are that he should lose his freedom for the rest of his living life."
Weatherston is to be sentenced in Christchurch on September 15. Justice Judith Potter will hear submissions on how long his non-parole period should be, with a starting point of 10 years.
She cannot impose preventive detention, an indefinite prison term intended to keep sexual predators behind bars for the community's protection.
But she could impose a minimum term of at least 17 years if she considered the murder to have been committed with a high level of brutality, cruelty, depravity or callousness.
Weatherston stabbed Sophie 216 times.
Lesley Elliott said: "In my mind he will always be a danger to society, especially to women like Soph who challenge him in some way.
"We have lost Soph in the most horrendous way. We will never have grandchildren, and I don't see why he should have those rights. He has to pay for what he did.
"I am a Christian. I have really struggled this year for forgiveness, because that's what we believe. But I will never forgive him for what he did. I make no excuses for that ... If I am condemned to hell, so be it."
Sophie, she says, would have punched both fists in the air and shouted "yes"! at Wednesday's verdict.
Beside her memorial plaque at the university, there was a handwritten sign placed this week that says: "R.I.P. Sophie. We got the bastard."
Lesley Elliott saw that sign.
"I was thrilled," she said, laughing. "I said to my parents, who are devout Christians, let's forget about the trial. She is resting in peace now and that's how it should be.
"I am bold and brave saying these things but I am sure we will still have our moments. People have said, 'you are so strong'. But, you know, if it wasn't for our friends and family I would not have got through this."