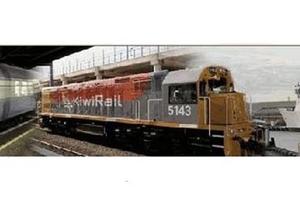 Kiwirail staff will today work to move a derailed train from the Wellington-Wairarapa line in hopes of restarting rail services before the Monday morning rush.
A Wairarapa-bound train was knocked off the track by a slip as it came out of a tunnel at Maymorn, 40km north of Wellington, about 6.15pm on Thursday, impacting 300 passengers.
Passengers were transferred to the train's rear three carriages and towed back to Upper Hutt where buses met them to complete the rest of their trip.
Kiwirail staff spent yesterday building a road to access the derailed locomotive, to be able to lift it back onto the tracks, spokesman Nigel Parry said.
The locomotive would be lifted today before Kiwirail could assess both the track and train, and make any repairs.
Buses were not available for commuters yesterday morning but from about 1pm all trains had been replaced with buses, which were to continue during the weekend.
Mr Parry said Kiwirail aimed to have train services running again before Monday morning.
The main trunk line north of Wellington was also closed for a brief time yesterday after a slip north of Ngauranga Gorge.
Passengers were bused between Wellington and Porirua during the closure, before services restarted at 1.20pm.
The midland line between Greymouth and Christchurch was also closed after severe weather caused a washout of the track, while flooding closed State Highway 53 between Featherston and Martinborough.
The severe weather continued to affect roads today with State Highway 1 near Mangamuka in the Far North closed following a large slip.
Contractors were at the scene working to clear the slip but it was not known how long it would take to reopen the road.
The weather was expected to fine up over the weekend, with the MetService predicting showers in the northern North Island and Fiordland but fine elsewhere.
- NZPA