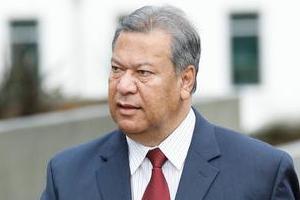 Taito Phillip Field. File photo / Greg Bowker
Taito Phillip Field misled police, a government-inquiry and continued to tell lies as he gave evidence from the witness box, the Crown has told an Auckland court.
Giving his closing address in the High Court at Auckland yesterday, Crown Solicitor Simon Moore, SC, said Field's story had "evolved" from the time he began helping Thai migrants with immigration issues right up until his trial on bribery, corruption and perverting the course of justice charges.
Field is alleged to have given Thai workers immigration help - while still a Government minister - in exchange for work they did for little or no payment on seven of his houses.
While Mangere MP, Field wrote to the then Associate Minister of Immigration, Damian O'Connor, about people he knew but didn't reveal they were working on his houses.
Mr Moore said a special trust was supposed to exist between ministers of the Crown.
"For a government to operate effectively ministers have got to be able to trust each other. If another minister tells you something, you accept that it's the absolute truth."
He said Field had been an experienced MP with a particular knowledge of immigration and someone who had the ear of the associate minister.
Even his secretary had been unaware the people coming into the electorate office were working on the houses.
"It was a secret. Mr Field's secret. He wasn't going to tell anyone - because he knew it was a bribe."
Mr Moore said the Thai workers amounted to Field's own "personal workforce" who toiled away day and night on his properties because they were grateful for the help he'd given them when others had failed to do so.
"They said, 'I'm not going to charge you, you helped me', and he traded on that."
He said Field misled police with blunt lies and told the Helen Clark-ordered Ingram Inquiry only as much as he thought it knew.
If he had truly co-operated with the inquiry, he wouldn't "be in the extent of trouble he's in now". His story continued to evolve up to his appearance in the witness box, Mr Moore said.
The trial, now in its fourth month, is into its final stages. Mr Moore's closing address is expected to take all of today. Defence lawyer Paul Davison, QC, will then give his closing address.