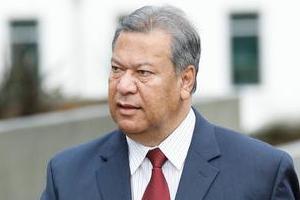 Former Cabinet Minister Taito Phillip Field abused his position as an MP and "privileged role" in Government when he accepted free labour in exchange for immigration help to Thai workers, the High Court at Auckland has heard.
Crown Solicitor Simon Moore is giving his closing address to the jury hearing 12 bribery and corruption charges and 23 counts of wilfully obstructing the course of justice. Field's trial - into its fourth month and having seen almost 4000 pages of evidence - is into its final stages. Mr Moore's closing address is expected to take two days.
Mr Moore said even though the case had been lengthy the issues could still be seen as simple and straightforward.
"He's abused his position as an MP and senior member of Government, taken advantage of a privileged role and ministerial salary... to give immigration help and in exchange accepted free labour on all seven of his houses."
Mr Moore said the Thai workers felt they owed Field, who they sometimes called "Big Dad" ,a debt of gratitude for helping them with their immigration issues where others had failed.
"They said I'm not going to charge you, you helped me - and he traded on that."
The prosecutor said Field didn't tell the associate Minister of Justice the people he was writing to him about where his friends and that even his secretary didn't know the people coming into the electorate office where working on the houses.
"It was a secret. Mr Field's secret. He wasn't going to tell anyone - because he knew it was a bribe."
The former Mangere MP was accused of using the Thai workers as his own "personal workforce" who toiled on his properties and of not co-operating with the Helen Clark-ordered inquiry.
"The Prime Minister had little option but to commence an inquiry." Mr Moore said if he had truly co-operated with the inquiry he wouldn't have been in as much trouble as he found himself in.
He employed "all sorts of devices to mislead" and told others to tell lies to the Ingram inquiry.
"His story was an evolving one. No wonder he got into trouble."
The trial continues.