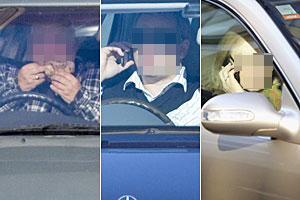 The number of fatal crashes on Auckland roads has risen sharply after a two-year lull, and police say cellphone use is partly to blame.
Fifty-four people have been killed this year in the region - just one down on the toll for the whole of 2008 and seven fewer than in 2007.
Crash investigators say they have anecdotal evidence that more and more motorists are talking and texting on cellphones while behind the wheel.
Auckland City road policing manager Inspector Gavin Macdonald said the dangers of using a cellphone while driving were clear.
"If something happens, like a child walks out in front of a car, you have only a couple of milliseconds to react, and when you are on the phone it's even worse."
Mr Macdonald had also noticed an increase in pedestrians killed crossing the road while talking on the phone.
The law does not explicitly forbid a person from talking or texting while driving, though police can enforce the Land Transport Act if a driver's cellphone use is reckless or dangerous.
Constable Gareth Hartley of the Otara motorcycle patrol said the police bottom line was that cellphone use was "a no-no".
While there was no such charge as "driving using a cellphone", a person could be charged with careless driving, careless driving causing injury or death, or dangerous driving causing injury or death.
Sergeant Stu Kearns of the Waitemata serious crash unit said his staff obtained warrants to search cellphone records whenever practical.
"I think it is a good practice in crashes where serious injuries or fatalities [occur] that you get a warrant to check cellphones."
He recalled a string of cellphone-related fatal crashes in recent times.
"We had one who was answering his phone and rolled."
Another driver was texting and crossed the centre line, killing a motorcyclist.
Roading policing staff have also spotted motorists applying make-up, reading newspapers or maps and engaged in amorous activity while behind the wheel.
Police Association president Greg O'Connor said a ban on hand-held phones in cars was inevitable, but would be met with reluctance.
"The problem with the public is that they want everyone else banned from using a cellphone but not them and it won't stop them from getting upset when they're issued with a ticket for doing it."
He said having a specific charge for the offence would help the police.
Last month, Transport Minister Steven Joyce told the Herald that he wanted action this year on a ban on drivers using hand-held cellphones.
He said he would seek rule changes to ban voice calls and texting while driving, subject to recommendations from officials and Cabinet approval.
Mr Joyce is waiting for a Transport Ministry report - due in September - on public consultation about motorists using cellphones.
He understood it showed a "broad level of consensus" on banning the use of hand-held cellphones.
The public consultation followed a proposal by the previous Labour-led Government to fine drivers $50 and impose 25 demerit points for using hand-held phones.
Cellphone use was blamed for 96 crashes in 2007, but the Automobile Association said last month that it suspected the true figure was higher, as it believed police have only recently made a routine practice of searching accident vehicles for phones.
* Dumb drivers
Police have spotted drivers:
Applying make-up.
Reading newspapers/maps.
Engaged in amorous activity.