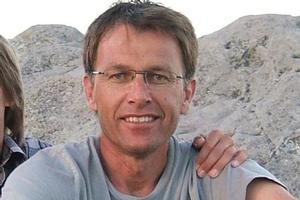 On the glass wall of the boardroom dedicated to his memory, the Auckland father who was fatally stabbed helping a stranger is remembered as "an extraordinary leader".
"He was a giant amongst us that stepped in without hesitation to protect a woman in need one night and tragically lost his own life. His courage was testimony to the type of man he was - but he was already our hero," the plaque reads.
Austin Hemmings, 44, killed going to the aid of a screaming woman in the central city last September, is one of six New Zealanders being honoured in his former employer's new eco-friendly building at the Viaduct.
His family - who coped with his death united by their deep Christian faith - attended a blessing of the Hemmings Room in the NZI Centre before the building opened.
The Hemmings family - wife Jenny and teenagers Meghann, Jessica and Gareth - told the Herald it was an honour to have their husband and father remembered in this way.
The plaque begins: "Austin Hemmings: the down-to-earth family man whose values, innate kindness and willingness to help others made him a loving husband and dad, special friend and respected work colleague who had unshakeable faith that he was put on this Earth to help others."
It ends: "They say 'Management is doing things right; leadership is doing the right things'. Austin was a fine manager, but he was more than that, he was an outstanding leader. In him was seen the future of NZI. Managers are easy to find, leaders are rare."
Starting his career with NZI in 1988 at the Matamata branch, Mr Hemmings went on to work for the company in a variety of roles and was the Auckland branch manager when he was killed. He had just left work when he came across the woman screaming for help in Mills Lane last September.
It was his selfless act of bravery that led to his being named the Herald's New Zealander of the Year jointly with a hero of the Mangatepopo canyoning tragedy, Elim Christian College teacher Tony McClean.
The new NZI Centre in Fanshawe St is a purpose-built, eco-friendly facility with features such as lifts that generate electricity on descent and large rooftop skylights that filter natural light into the entire building.
The other New Zealanders being honoured with dedicated boardrooms are Nobel chemistry laureate Dr Alan MacDiarmid, Victoria Cross winner Corporal Willie Apiata, Olympic rowing champions Caroline and Georgina Evers-Swindell and All Black great John Kirwan, for his contribution to rugby and mental health.