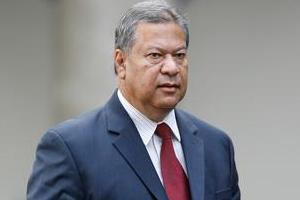 Taito Phillip Field says he has no recollection of a Thai painter offering to help him out after he intervened to get the man a work permit.
The former Government minister faces 35 charges alleging he accepted work from Thai tradesmen in return for help on immigration issues, and that he tried to derail two investigations into corruption claims.
Field says he gave immigration assistance to several Thai people but it was never linked in any way to work done on his houses.
The court has been told Thai couple Sompong Srikaew and his wife Phisimai Phothisarn were the first people to approach Field in 2002, as they were due to be removed from New Zealand.
Field said he offered for them to stay at one of his rental properties in Auckland but he did not charge them to stay there. They offered to make some improvements to the house.
Field said he made it clear to them they should give him the bills for any repair work so he could pay for it.
The arrangement had always been with Mr Srikaew and Ms Phothisarn. They got other Thai people in to help, but that was their idea, Mr Field said.
Yesterday, Crown prosecutor David Johnstone asked Field about cheques he paid to them.
"Had you paid for everything you needed to?" he asked the former MP.
Field: "I made it clear I was happy to pay them for the repair work."
Johnstone: "Did you understand you needed to pay more?"
Field: "All I know is that they were honest people, and I would pay for the work they did, whether it was for materials or labour. I paid for whatever bills they brought me to cover the work they had done."
Mr Johnstone asked about a letter the Associate Immigration Minister had written to Field's office on October 23, advising it wasn't his normal practice to intervene in immigration cases but he had decided to intervene in Thai Phong Phat Chaikhunpol's case.
"I don't recall any reference to this," Field said.
Mr Johnstone asked about Mr Chaikhunpol's painting work on Field's Auckland rental property, saying Mr Chaikhunpol had said that as Field had helped him with his work permit, he would help Field with his repair work.
Field said he did not recall Mr Chaikhunpol saying that.
"Mr Johnstone, you have made a lot of links to a scenario which doesn't exist. Hundreds of people come to my office, and I cannot recall who Phong Phat Chaikhunpol was."
Mr Johnstone said a valuation Field had had done on his rental property in Mangere in December 2003 showed the repair work had increased its value from $150,000 to $230,000-$240,000. The trial is into its 15th week.
- NZPA