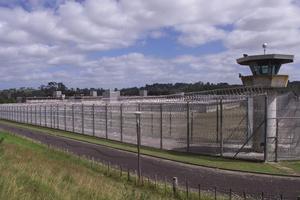 Detectives investigating the disappearance of Grant Trevor Adams could never have imagined the tangled criminal web police now claim to have unravelled.
Nicknamed "Granit", the 29-year-old Adams was reported missing by his mother after he failed to show for his daughter's birthday party. Tauranga police launched Operation Spider in March 2006 to find him.
The hunt became a sprawling investigation which led this week to a court hearing involving 16 defendants. All deny the drug conspiracy charges levelled against them.
Adams, a skilled methamphetamine manufacturer, had links to the Head Hunters, Filthy Few and Mongrel Mob gangs and was wanted by police for an assault on a pregnant woman.
No body had been found, but any number of people had motive for murder.
Police heard whispers that Adams was involved in making meth with Brett Michael Ashby and his brother-in-law, Arthur William Taylor, who was serving time in Paremoremo prison.
Interception warrants were granted by the High Court in May 2007 to bug their cellphones and police began to eavesdrop on conversations.
Ashby was later charged with murder as a result of Operation Spider. Police alleged the 50-year-old shot Adams with a semi-automatic pistol in December 2005 before burying his body with a digger near Taupo.
He denied the charge but never stood trial. He died from liver cancer in June.
But when the phone of Taylor was bugged in May and June 2007, police allege intercepted conversations revealed a multimillion-dollar drug ring was being run from inside New Zealand's maximum security prison.
The links between organised crime and the methamphetamine - or P - trade is no secret, but even senior drug detectives were surprised at the network allegedly run from inside the walls of Paremoremo prison.
Operation Web was launched in January 2008 and police monitored the telephones of a number of people, including inmates of Paremoremo and the Spring Hills Corrections Facility in Meremere.
Nine months later, more than 100 police officers and 60 Customs and prison staff executed raids in both prisons and 20 homes across Auckland, finding enough pseudoephedrine to make $5 million worth of P. Methamphetamine has a street value of around $1000 a gram, a lucrative business.
A depositions hearing for the 16 accused in Operation Spider Web - the evidence of both police inquiries combined - began in the North Shore District Court this week.
Wanzhe Gui, Matthew Schwenke, Rico Thompson, Fraser Milham, Kathleen Garrity, Michael Laumanu and Matthew Butland have conceded a prima facie case in the conspiracy charges and have been committed to trial.
Lawyers for the others - Ulaisi "Rocky" Pulete, Ernest Tofaeono, Tai Bong Rhee, Wayne John Clarke, Bruce Andrews and Glenda Phillips - are testing the evidence. Dressed sharply but manacled to a security guard, Taylor is representing himself.
All 16 have denied the charges.
The police case is that a group of Paremoremo inmates pooled their knowledge and network of criminal contacts, both in and outside prison, to orchestrate the importation of pseudoephedrine.
Syndicate members outside prison helped smuggle cellphones, drugs and other contraband to the inmates to help them direct the network, say police.
Others have been accused of running the day-to-day operations of the organisation, delivering cash, collecting debts, and depositing money into bank accounts or other financial institutes.
From inside prison, police say the accused used cellphones to organise the manufacture of methamphetamine and distribute the drug around New Zealand.
A number of gangs were also linked to the alleged enterprise, including Asian organised crime figures, the King Cobras, the Head Hunters, and the Killer Beez.
At the centre of the syndicate, police say, were Taylor and Pulete who allegedly worked together closely.
The court heard that Taylor spoke by cellphone with Wayne John Clarke, a prisoner in Rimutaka, who asked to buy an ounce of methamphetamine.
In later conversations bugged by police, prosecutor Bruce Northwood said Taylor and Clarke spoke of buying "Os", or ounces, of methamphetamine for $12,000.
On other occasions, a series of text messages between Taylor and Pulete discussed how to supply the P, said Mr Northwood.
Taylor would receive orders for methamphetamine, said Mr Northwood, then text Pulete to check the syndicate had enough supplies to meet the demand.
"You're truly an angel my friend, thank you," is what Taylor allegedly texted to Pulete when a sale of three ounces was completed.
Despite being able to network from inside prison with the contraband cellphones, the alleged syndicate still needed help from associates in the outside world. Police say Bruce Andrews was a crucial link in the ring, allegedly organising cellphones, collecting payments and passing on orders from Taylor and Pulete.
Prosecutor Bruce Northwood said Taylor would call the West Auckland man to arrange to have cash deposited in bank accounts on behalf of the prison inmates.
As telephones were critical for the prisoners to run the business, police say Andrews was recorded arranging to have telephone connections diverted through "prison authorised" landlines to the cellphones used by the drug syndicate.
"This diversion technique was trying to cover their tracks. One might think that would be a useful tool to communicate in clandestine matters," said Mr Northwood.
Police also intercepted text messages between Andrews and an associate John Dryden. Dryden told Andrews that he had lost $60,000 from a drug deal and to pass on a message to Arthur Taylor that the Head Hunters gang wanted to know about him supplying precursor chemicals to another associate, say police.
Dryden was arrested and charged as a result of Operation Web, but with supplying Ecstasy, not pseudoephedrine or methamphetamine.
Phone calls were being made from Paremoremo to China, according to police, who also say Wanzhe Gui was able to call Tai Bong Rhee in China to purchase pseudoephedrine.
China is the main source of pseudoephedrine used to make P in New Zealand.
Taped conversations between the pair revealed that postal workers in China were being bribed, say police, and that the syndicate were concerned that it was difficult to smuggle chemicals during the tighter security during the 2008 Beijing Olympics.
Chocolates, cakes, drink mix, shoes and clothing were used to disguise the drug, which were sent in 1kg packages to an "elaborate network of associates" outside prison, say police. Rhee would check the "track and trace" number on the packages on the internet, but police say that Gui warned him not to use his computer at home.
Police say Paremoremo inmates Pulete, Gui, Fraser Milham, Ernest Tofaeono, as well as Glenda Phillips, Kathleen Garrity, Matthew Butland and Rhee used coded street talk to arrange Auckland addresses for the precursor chemicals to be posted to.
Between April and July 2008, eight packages sent by the syndicate were allegedly intercepted by customs officers - totalling 10 kilograms. Three of those parcels were allegedly sent to a Manurewa home organised by Garrity, a 31-year-old mother, and another to Butland in West Auckland.
Throughout Operation Web, police say that Pulete directed the supply and distribution of the methamphetamine by contacting Garrity and Butland, ordering them to uplift the drug and deliver it to other associates.
The pair were paid in cash and drugs, say police.
On a number of bugged conversations, police say Pulete told Garrity to meet Matthew Schwenke, a fellow King Cobra, to pick up drugs and deliver money.
When Schwenke's home in Mt Wellington was searched on September 2, police allegedly found 66g of methamphetamine, $5000 cash, plastic ziplock bags and 64 grams of pseudoephedrine.
Other tapped Pulete conversations were with another Paremoremo inmate Michael Laumanu, also a King Cobra gang member.
While Pulete is accused of directing the supply and distribution of the drugs, Laumanu allegedly used code to order associates to manufacture the methamphetamine once the ingredients arrived from China.
Other intercepted conversations revealed inmates Pulete, Laumanu and Fraser Milham instructed Garrity and Glenda Phillips, a 48-year-old Papatoetoe woman, to deposit cash into bank accounts.
More than $1 million profit for one prisoner was discussed by Pulete, according to a conversation overheard by police.
At the moment, the police case is unproven allegations but eight of the accused have conceded a prima facie case and will stand trial.
Those who remain to test the police case look bored by the slow nature of the proceedings, but their lawyers wait patiently to question the credibility of the case.
Evidence against Arthur Taylor is yet to be produced, but the alleged syndicate mastermind shows a sharp understanding of the law when cross-examining police witnesses. Police have already had to withdraw some allegations made against him because of a lack of evidence.
It seems the Spiders Web is still tangled.