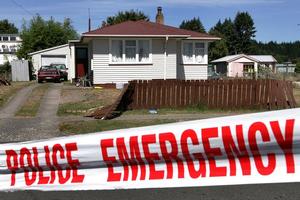 Two brothers of a teenager killed in a hit-and-run have described to a court how they saw him fly through the air.
A depositions hearing started in the Rotorua District Court on Monday for Quentin Pukeroa, who is charged with murdering the teenager on January 27.
He also faces one count each of attempted murder and assault with a tomahawk, axe and metal bar.
Eleven other Mongrel Mob members are also part of the hearing and face a raft of charges relating to the same incident.
Justices of the peace Barry Gaylard and Ron Hope are hearing the Crown evidence.
Jordan's older brothers, Mahuika and Jamie Herewini, gave evidence yesterday but both refused to say what happened at a money machine in Murupara shortly before their brother was killed.
They each face charges in relation to that incident and told the court they didn't wish to incriminate themselves.
Jamie Herewini said that late on January 27, Jordan visited him at an aunt's house saying he was being followed by two men in a white Safari truck.
He said the pair went looking for it and found the truck with two men inside _ Pukeroa and another of the accused, Kingi Gemmell.
Their other brother, Mahuika, was also at the money machine.
Jamie Herewini identified Pukeroa and Gemmell in court.
The Herewini brothers went together to a family home in Matai St and were standing outside when a convoy of vehicles full of Kawerau Mongrel Mob members came down their street and a green van driven by Pukeroa blocked the driveway, he said.
When asked by Crown Prosecutor Amanda Gordon how he knew which gang the men were in, he said he had seen their patches.
About eight people with weapons including tomahawks jumped out of the van and started smashing up the house. Pukeroa took a "swing" at him with a tomahawk, Jamie Herewini said.
"I fell to the ground, he took a swing at me with a tomahawk."
All the brothers started running towards the rear of the section, he said.
Moments later, Jamie Herewini said he saw someone driving his brother's grey Hi-lux through their front fence aiming for his youngest brother.
"My brothers turned and ran and I saw Jordan following _ but he never made it because of the clothes line," he said.
Jamie Herewini jumped a fence to go and help his brother but he saw Jordan "come flying up from under the truck".
"I froze ... he was really hurt with blood coming from his nose and face ... I hoped for the best because from what I saw he didn't look the best ... I thought if they can do this they can do anything," he said.
He could not identify who was driving his brother's vehicle.
Mahuika Herewini told the court he saw Pukeroa run over his brother.
"I saw the bro trip on the line. It was too late. He tried to jump it and fell on his stomach ... [Pukeroa] was just revving fast. Jordan was in the push up position. I saw his head pop back and his arm was trapped in the wheel, dragging him through the fence,' he said.
Pukeroa crashed into a shop behind their home.
Mahuika Herewini said he tried to stop Pukeroa reversing.
"I tried to rip him from the truck, punching him and telling him 'you just ran my brother over'," he said.
However, Pukeroa drove off as Jamie picked Jordan up by his elbows and dragged him back into the section.
"I told him to get him out of the way because the fella put the reversing lights on," he said.
The brothers stayed with Jordan until medical help arrived about an hour later.
The depositions hearing is set down until the end of next week.
- DAILY POST