Dionne Christian previews May's big fat helping of music for Auckland's children.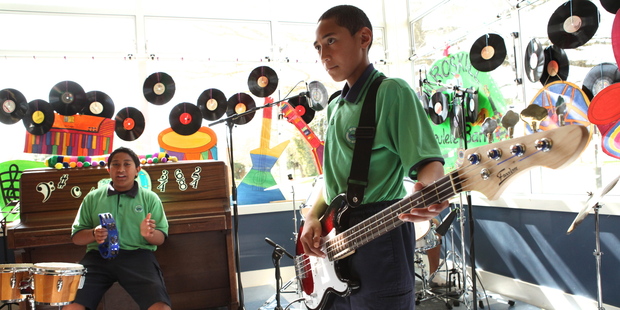 It's May, which means it's New Zealand Music Month - a celebration of homegrown musical talent across the length and breadth of the country. Started in 2000, the month promotes the next generation. Here are some of the ways for children to fall in love with music.
Auckland Libraries
Music celebrations may seem incompatible with libraries, but throughout May, the spaces become the venues for performances, workshops, demonstrations and family events. Try ukulele lessons, songwriting workshops, open mic sessions, musical-themed quizzes and storytime sessions, percussion instrument crafts and schools' performances - of chamber music, jazz, hard rock, choirs, Cook Island drummers and Latin American performers.
Papakura's Got Talent!, Sir Edmund Hillary Library, Saturday, May 10, 12pm-3pm. Register online.
NZ Music Month mini-festival, Central City Library, Saturday, May 24, all day. You will hear performances by some of Auckland's best independent talent.
APO Remix Roadshow, Mangere East Library, Friday, May 23, 4pm-5pm. Rappers and songwriters can ask the APO's Remix team about the music industry, freestyle with the APO and upload raps to YouTube. Also at Papakura Library, Saturday, May 24, 1pm; Te Matariki Clendon Library, Saturday May 24, 3pm. aucklandlibraries.govt.nz
Smokefreerockquest and Smokefree Pacifica Beats
If you have a kid at high school - or have been at high school in the last 26 years - you'll know all about the Smokefreerockquest and Smokefree Pacifica Beats competitions. The nationwide live, original music youth festival has 40 public performances attended by about 10,000 people. You could witness musical history: past winners include Kimbra, Midnight Youth, Opshop, Nesian Mystik and many more.
Originally the Urban Beats Awards, Smokefree Pacifica Beats motivates young musicians to prove their ability with 100 per cent original Aotearoa Kiwi music. Heats for both begin this month. smokefreerockquest.co.nz smokefreepacificabeats.co.nz
Musical Connections
Auckland Philharmonia Orchestra and the New Zealand National Commission for Unesco's programme Connecting in Action, celebrate International Arts Education Week and NZ Music Month with a variety of events. Tunes 4 Toddlers introduces the younger-than-3 set to the instruments of the orchestra. Mangere Arts Centre or Old St Michael's Church, Corbans Estate, Henderson, both Monday, May 19, 10am. Free, booking essential at claudiar@apo.co.nz.
In Catalogue of Sounds, APO composer-in-residence Ken Young talks about writing music for an orchestra. University of Auckland School of Music, Thursday May 22 10am-2.30pm. Open to anyone over 15 years, free. To enrol email leem@apo.co.nz.
Talented young musicians mentored by the APO perform in the Young Achiever Recital. Auckland Central Library, Thursday, May 22, noon-1pm. No booking necessary.
Unwrap the Music, a regular APO series of narrated concerts, provides a deeper insight into orchestral hits. You'll hear how the composer created great classics and APO musicians will talk about their instruments' parts. Australian Graham Abbott, of ABC's Keys to Music, presents Mozart's most famous symphony, No 40. Auckland Town Hall, Thursday, May 22, 6.30pm. Tickets $15-$25. Book at apo.co.nz.
Play it Strange
Started in 2003, the Play It Strange Trust encourages young New Zealanders to write songs and music in the Lion Foundation Songwriting Competition for secondary schools. Forty of the top songs are professionally recorded for the annual Play It Strange CD (also available as a free download).
This year, to mark the centenary of the start of World War I, Play It Strange, the Concert Trust and the Auckland War Memorial Museum are supporting songs named The Calling - that "reflect, recall and mirror" the impact of the day that war was declared. Again, the winning song will make it on to the Play It Strange double CD. playitstrange.org.nz
Jungle Rock
Go wild with music for Mother's Day. Jason Kerrison, of Opshop and Babysitters Circus, will be mixing and spinning the music at Baby Loves Disco, where disco meets the latest pop for kids and their grown-ups to get their groove on. Auckland Zoo, Band Rotunda (the Old Elephant House if wet), Sunday, May 11, 10am-1pm. Normal zoo admission. aucklandzoo.co.nz
Pick N Mix
Not strictly part of Music Month, the Edge's annual Pick N Mix programme is a great way for kids to dip into performing arts, with Saturday morning performances and workshops. Music includes:
Drum and Rhythms, Saturday, July 12: A high energy show by New Zealand percussionists, Strike, who draw on styles from across the globe to introduce a broad range of modern rhythms. At the workshop, everyone will be given a percussion "instrument" to play hip-hop beats and chart songs with Strike.
Musical Theatre, Saturday, August 2: Join the cast and creative team of the National Youth Theatre Company for songs and dances from the world of musical theatre and the TV series Glee. The workshop challenge will be to write and perform a new, original song with the NYTC team.
Orchestra, Saturday, September 6: If you've ever wanted to listen to or learn the trombone, this is the day to do so. Eight trombonists from Auckland Philharmonia Orchestra's "Aucktet" will attempt daring feats of musical entertainment by performing music that was thought to be impossible for a lone trombonist to play, let alone eight.
Afterwards, you'll get to learn how to play the trombone and then perform with the group.
Aotea Centre, Saturdays, performance 10.30am, workshop 11.30am. See the-edge.co.nz for more details, which will be available in full later this month.
The art of music
With the help of the New Zealand Music Commission, Recorded Music New Zealand have digitised their extensive back catalogue of local albums. for Spotify and iTunes, and curated a show of more than 200 local albums' cover art from the 1960s to the 2000s.
Tied To The Tracks, Tyler Street Garage (licensed venue but families welcome during the day), Britomart Quarter, from May 20-31.