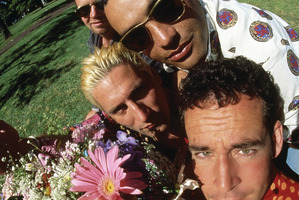 Prime Television is going local for the first time in its rockumentary slot Prime Rocks with a retrospective on Kiwi pop institution the Exponents. The doco about the band will screen in the slot in late May as part of New Zealand Music Month, and follows new releases by the band.
The album Eight Days at Roundhead - a collection of newly-recorded versions of songs written but unrecorded in the days when the band first conquered the nation as the Dance Exponents - will be released on May 10. It will be available as stand-alone digital album or as a bonus packaged with The Exponents Greatest Hits on CD, download and stream.
On the same day label Universal Music will reissue the band's classic catalogue digitally. That includes the long out-of-print Live at Mainstreet and Amplifier albums and special deluxe editions of Prayers Be Answered, Expectations, Something Beginning With C and Grassy Knoll which feature b-sides, live recordings, and rarities.
Watch: The Exponents live at Mainstreet.
As well as much archival footage and interviews with those who were part of the band's history, the documentary produced by Julia Parnell of Notable Pictures captures the band's surviving four original members - singer Jordan Luck, bassist Dave Gent, drummer Michael "Harry" Harallambi and guitarist Brian Jones - discussing their shared, often colourful past in between recording sessions at Neil Finn's Roundhead Studios. Finn produced two of the tracks on the new album.
The channel's publicity describes the programme as "a tender and timely story of friendship, betrayal and redemption".
- TimeOut