It's New Zealand Music Month - the perfect opportunity to go in search of something new. Each day we're asking a member of our local creative fraternity to throw a little limelight on an artist or group they want you to know about.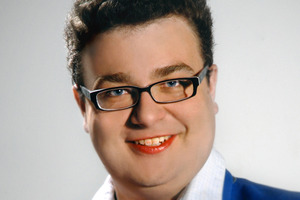 "I'd like to highlight Golden Axe because I feel like they're one of the most important bands in New Zealand - I share a vibe with them in terms of being 'weirdo electronic pop music'," says synth-pop tunesmith Disasteradio.
"We're both seeded in this Cold War, late '80s pop fascination thing, but we both hate 'retro'. We've kind of grown together as bands, done a bunch of tours and stuff together and it's been really cool becoming intimate with their shtick. They tend to have these weird chiptune/Gameboy comparisons attached to the press they get, but that's totally not what they're about.
"Their sound is way bigger. It's the sound of small keyboards made BIG with distortion and radness.
"Or it's cheap instruments treated expensively.
"They tend to write the most killer songs, and they have a new album called Liquid Bacon out for free/donation and they are great party bros with a good-time buzz. They've recently come under the wing of rad Czech Republic label AMDISCS and their first European tour start in mid-June.
"I get the feeling we're both going to be making music till we're all totally uncool old dudes."
* Follow Sam Wicks on Twitter for notifications of future recommendations and other content on nzherald.co.nz