After some bad luck last year, Brendon Hartley is back for the Le Mans, reports Eric Thompson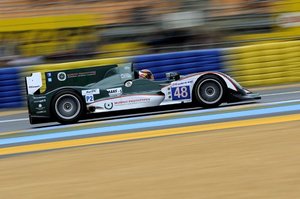 Three races make up the Triple Crown of motor racing - the Monaco Formula One Grand Prix, the Indianapolis 500 and the Le Mans 24 Hours endurance race.
Nico Rosberg won this year's Monaco Grand Prix, the Indianapolis 500 went to Tony Kanaan and this weekend we have the 90th running of the French race.
The Le Mans 24 Hours is the world's greatest sportscar endurance race in the world, dating back to 1923 when it was known as the Grand Prix of Endurance and Efficiency.
During the making of the movie Le Mans in 1971, racer and actor Steve McQueen said of being at the Circuit de la Sarthe: "A lot of people go through life doing things badly. Racing's important to men who do it well. When you're racing, it's life. Anything that happens before or after is just waiting."
That view would be shared by many who have tasted motor racing at speed, especially at 2.30 on a misty morning down the Mulsanne Straight at speeds in excess of 300km/h.
One of the youngest drivers in this year's field is Kiwi Brendon Hartley returning for his second dig at the race driving a Murphy Prototypes LMP2 Oreca 03-Nissan with American Mark Patterson and former F1 driver, Indian Karun Chandhok.
"I'm very, very happy about being able to race at Le Mans again this year," Hartley said. "It's a big chance for me and a great opportunity. I definitely have been showing a few people that I'm getting faster in sportscar racing and have had some very good finishes since last year, setting some of the fastest race lap times along the way.
"It's the reason I'm at Le Mans really. It's the race that every single sportscar driver wants to do."
Getting to start at a Le Mans 24 Hours isn't about how big your wallet is. Automatic entry is granted only if a team has won a previous Le Mans 24 Hours race or won a Le Mans-based series. The grid allows only 56 cars so for Hartley to make the line-up again in only his second tilt is something special.
"I can't believe the number of people who will watch the race - 450,000 to 500,000 over the two days is amazing."
At his debut last year Hartley acquitted himself well before the car had mechanical trouble after 10 hours. Within a couple of laps Hartley was setting the fastest times in his class and closing rapidly on the class leaders. He soon passed the leading car and was easing away at 10 to 12 seconds a lap. His speed in the LMP2 was impressive and he had moved up to seventh when disaster struck.
Drivers will cover over 5000km at race speed. Physical fitness, concentration and race craft must be aligned to get to the finish line, let alone win a class or the race outright.
It's a test of man and machine.
Only Graham Hill has all three titles to his name but New Zealand can lay a claim to a Triple Crown of sorts. Chris Amon and Bruce McLaren won the race in 1966 in a seven-litre Ford GT40, Scott Dixon became the first New Zealander to win the Indianapolis 500 in 2008 and Denny Hulme (New Zealand's only world F1 champion) won the Monaco Grand Prix in 1967.