Van Gisbergen, McLaughlin poised to improve on first-round results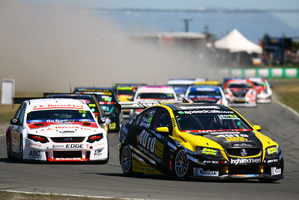 Round two of the New Zealand V8 SuperTourers starts on the Ruapuna track this weekend and the domestic drivers may well have their work cut out even more than usual.
Australian V8 Supercar drivers Shane van Gisbergen and Scott McLaughlin arrived in New Zealand having shown great form in the opening round of the V8 Supercars in Adelaide.
A new kid on the block in the main game, McLaughlin showed he can mix it with the best in Australia with two top 10 finishes, and Van Gisbergen put his critics in their place by winning race two of the Clipsal 500.
"This weekend should be pretty good," said Van Gisbergen. "We found a lot of things wrong with the car at Hampton Downs and I think we went better than we looked.
"I feel like I'm driving pretty good at the moment and feel I can give it a good shot."
In the opening round of the local series it was Greg Murphy who showed his experience and pace to win all three of Sunday's races.
"I get back into the seat this weekend and it's good to get a few more race miles under my belt," said Murphy.
"It's not at V8 Supercar level yet but there's a few guys in the field who are a good benchmark as to where you're placed in the scheme of things.
"I know it's not going to be as easy as it was at Hampton Downs."
McLaughlin will be keen to make amends for being taken out in race one at Hampton Downs. The damage put him out of the next two races.
"I love racing and I don't have a problem with back-to-back weekends," said McLaughlin.
"It's a bit like last year where we had a round with no points. The only problem now is that I've had my bad round, so now I have to make sure all the others are okay."
International Motorsport driver Pedersen has shown he can stay with V8 Supercars drivers and is confident he'll be more than able to hold his own at Ruapuna.
"The car's good to go and I'm pumped for it - can't wait," he said, "The other guys [from Australia] come with a bit of confidence and we've just got to take it to them."
Local drivers Eddie Bell and Moore provide interest for Christchurch fans, Moore particularly has enjoyed a great start to the season as part of the M3 Racing set-up, which also runs Murphy and Paul Manuell.
The action starts on Saturday morning with UDC NZ V8 Utes, Suzukis and classes for four cylinder and open saloons.
Two sessions of practice will be followed by SuperTourer qualifying on Saturday afternoon and there will be three races on a packed Sunday.
V8 SuperTourers
(After 1 round of 7)
1. Greg Murphy 763
2. Ant Pedersen566
3. Richard Moore493
4. Shane van Gisbergen466
5. John McIntyre417
6. Paul Manuell 386
7. Daniel Gaunt305
8. Ashley Walsh 298
9. Tim Edgell279
10. Andre Heimgartner264