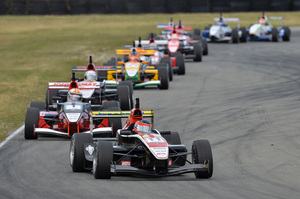 Forget the high rollers of Monte Carlo, the hot spots of Melbourne. Gentlemen and a lady start their engines at the first Grand Prix of the year this weekend - in the rather more rural surroundings of Feilding.
The New Zealand Grand Prix, at Manfeild, is one of only two Grand Prix outside the grasp of Formula One. The other is the Formula 3 gala in Macau.
The NZGP may not attract Sebastian Vettel or Fernando Vettel these days, but past winners include F1 world champions Stirling Moss, Jack Brabham, John Surtees, Bruce McLaren, Graham Hill, Jackie Stewart, Chris Amon and Keke Rosberg.
The Grand Prix has been integral to the Toyota Racing Series since 2006 and is one of the biggest prizes for those drivers. The meeting is also the last round of the TRS season and the defending TRS and NZGP champion, young Aucklander Nick Cassidy, sits at the top of the table with a 32-point buffer over hard-charging Austrian Lucas Auer and Brit Alex Lynn.
With each of the three races worth 75 points, Cassidy isn't thinking the championship is a done deal.
"Although we've been consistent, it hasn't, to be honest, been the championship we hoped for," says Cassidy. "I've set the fastest lap in seven out of 12 races but only won once. That, to me, is a little frustrating."
Realistically, the TRS title will be a battle between the leading three.
Cassidy and Auer have swapped the series lead on and off and the points gap has never been much. They will have to keep a wary eye on Lynn as he's rocketed right into contention after a miserable opening round in Teretonga.
"I'm in the fortunate position of heading into the last round with nothing to lose," says Lynn.
Auer has been one of the most consistent in the championship.
"I feel confident going to Manfeild and it should be interesting," says Auer. "I like Manfeild but I still need to learn some things. I believe the team has a good set-up and good data for this weekend.
Italian driver Ignazio D'Agosto is a late addition to the grid as is Pieter Schothorst, brother of rising star Steijn. Making a one-off appearance, and aiming to make the most of a drive in the Giles Motorsport car vacated by Mitch Evans, is Grand Prix veteran Kenny Smith. At 71, he is the oldest competitor in any Grand Prix. This is his 48th NZ Grand Prix and he is the only driver to have contested all eight races since the TRS became the premier open-wheel category.