Overseas drivers lured here by TRS' hot reputation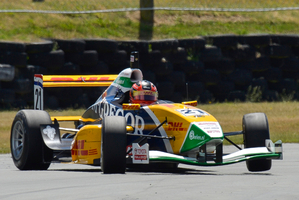 Such is the growing reputation of the Toyota Racing Series in some European countries, drivers who have done a championship in the past are recommending their fellow open-wheel pilots head down south.
Young Netherlands driver Steijn Schothorst is one, who, on the recommendation of former TRS competitor and teammate Jordan King, decided to expand his single-seater experience by coming to New Zealand to race.
The 18-year-old is just starting his third year in single seaters, having already competed in the 2012 Formula Renault 2.0-litre Northern European Cup and Formula Ford. He does, however, come from a racing family as his father and cousin compete in the Eurocup Megane Trophy, and he's raced alongside his brother Pieter in Formula Renault.
"I started following the TRS series after Jordan told me about it," says Schothorst. "Halfway through last season we decided to come here and have some fun.
"I really like it a lot and it's very good for learning things that I might not learn in Europe but may need.
"You learn how to drive the car very, very smoothly to get the last few tenths of a second out of it."
Schothorst has steadily improved over the nine races so far in the championship. His worst finish of eighth (other than having to pit for a broken front wing) was in the opening race of the series in Teretonga. Like a number of newcomers to the TRS series, he's not been on any of the tracks but did follow Hannes van Asseldonk, another TRS graduate, on YouTube last year.
Schothorst has steadily moved towards the front of the pack and now has three podium finishes, three fourth places and a sixth. Not too shabby for a young man in a new car on unfamiliar circuits.
"We're close to getting our first win after two thirds and a second. My driving is getting better and who knows, maybe a win is close now.
"I don't have as much experience as some of the guys in single seaters, but if you want to compete you have to adjust quickly," he says.
Natural talent is all well and good, but having a great mentor on hand to help young drivers negotiate their way through a new series and new machinery is a must. With M2 Competition, Schothorst not only has a good crew looking after his car, but his engineer and mentor is none other than Chris van der Drift.
The Kiwi has a growing international reputation as a fast bloke in anything with four wheels and an engine. Van der Drift has either set the fastest time, won, or been on the podium in every category he's competed in from A1GP, GP2 Asia, Formula Renault, Formula BMW, WSR, Italian GT3 and others.
"Chris has been a big help and because he has so much experience in many different cars, you can believe the stuff he tells you. It's really good and I believe most of things he tells me, especially about the racing,"says Schothorst. "Honestly, I do listen to him."
Van der Drift is held in high regard as a driver coach overseas and in New Zealand and is the driver coach for the entire M2 Competition team. He has a quiet, no-nonsense approach and is keen to get the best out of his charges.
"Back in Europe I suggested it would be good for Steijn to come down here and further develop his driver skills," said van der Drift. "I was looking after Tanart [Sathienthirakul] here last year and he improved a lot when he got back to Europe.
"Steijn was in his first European season and he won a couple of races and finished fifth in championship. You could see he has good speed. He's also a very nice kid, which is helpful.
"He's good to work with and after a session we sit down and go through things. When you suggest something to him he'll go and do it and see the benefits.
"The good thing for him is he's able to put the advice into practice and get better gaining more confidence as he goes along. The plan is to keep building on what he's learning and get him his first race win."
This weekend at the fourth round of the TRS season at Hampton Downs may just be the circuit Schothorst gets his first win. He sits fifth on the points table in behind Brit Alex Lynn, with Puerto Rican Felix Serralles, Austrian Lucas Auer and defending champion, New Zealander Nick Cassidy, in the top three spots.
Cassidy has yet to get his first win, but by accumulating points in each race he leads the title race by six points from Auer. Lynn has been in scorching form and if he hadn't crashed heavily at Teretonga, he'd be in command and control of the championship. He's won three of the last four races, however the Hampton Downs track is a different kettle of fish to that of Taupo.
There have been five different winners in nine races and each driver is more than capable of standing on top of the podium - as is Cassidy, Damon Leitch and Schothorst.
The north Waikato is New Zealand's newest international track and with its European influence will suit the wings and slicks of TRS cars. The weekend will be one to watch - and don't be too surprised if there are a few different winners come Sunday afternoon.