Young racer Michael Scott has had to learn fast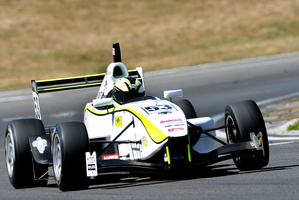 It has to be hard going from being a championship contender to being cuffed most of the time, in less than a year - especially if you're a teenager.
In 2012 young New Zealand open-wheel racer Michael Scott finished second in the Formula Ford championship, fourth in the Formula First series and fifth in the Victorian Formula Ford series in Australia.
So the 18-year-old decided to contest the Toyota Racing Series in 2013, which has been an eye-opener for the Te Puke lad.
"I just can't believe how quick the international drivers can go in these cars, and the mid-corner speeds they get up to," said Scott.
"It's big change from Formula Ford and Formula First cars.
"There's a lot more grip with both the aero package and tyres, and it's hard trusting that you can go that fast around the circuit."
There has been some improvement in his lap times and he's slowly making progress up the field, finishing 15th in race one on Saturday, after an off-track excursion and 14th in Sunday's first race.
Instead of hanging his head in frustration, Scott is looking at the TRS championship as a learning curve in his on-going development as a racecar driver.
"You've got to be patient. Each time we go out there we learn a whole lot more.
"The level of competition is incredible.
"The whole plan with TRS is for it to be a two-year programme.
"We're considering this as development year and next year we can try to challenge for the championship," said Scott.
He does on occasion get a bit miffed that he's not at the front of pack, but knows you don't learn anything from crashing.
"Watching the internationals and listening to their take on everything is also really useful," he said.
Being open to all the advice that is swirling around the pits in his own garage and others, and being able to absorb as much as possible, paid off for the young Kiwi as he posted his best result in the feature race on Sunday afternoon. In the Denny Hulme Memorial Trophy race Scott ran at the back of field, staying out of trouble.
With consistent lap times and a bit of good fortune, he crossed the finish line in 10th.
"I'm really happy to get my best result so far, and over the next two rounds I hope to build on how we finished at Taupo," said Scott.
Defending TRS champion Nick Cassidy proved that points mean prizes as the teams unload the trucks at Hampton Downs for round four of the series.
Despite not winning a race yet, Cassidy heads the championship point's table from Lucas Auer and Felix Serralles. The Aucklander has been consistent with five podium finishes and has not been outside the top 10 in the other four races.
However, the Taupo weekend belonged to Brit Alex Lynn, with two wire-to-wire wins and a sterling drive in race two from 16th to eighth, after spinning on the opening lap.
The feature Denny Hulme Memorial Trophy race was action-packed from the start, when Lucas Auer tangled with the rapidly improving Steijn Schothorst heading into turn one.
Cassidy and Lynn made it through unscathed, while Auer dropped to the rear of the field after pitting for a flat rear tyre.
With three wins from four races, Lynn has set himself up as a very real threat to Cassidy. He's now fourth in the championship behind Serralles.
TRS points after round three
1 Nick Cassidy New Zealand 517
2 Lucas Auer Austria 511
3 Felix Serralles Puerto Rico 477
4 Alex Lynn UK 471
5 Stejin Schothorst Holland 451
6 Bruno Bonifacio Brazil 448