There's time to admire the view before engine-braking down the hill.Yamaha's ever popular XT250 is perfect if you don't want to sell yourself short, finds Jacqui Madelin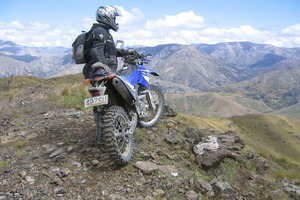 Scrambling out of a rocky stream and foiling the crowd gathered to cheer my fall, then ascending the escarpment to look out over a sweep of golden beach below, anticipating another 150km or so of forest and trail ahead, I realised Yamaha may have found the perfect dual-purpose bike - especially for shorties, like I am, who are less limber than they once were.
Yamaha's XT250 has evolved over the years, and it's really hit the spot as a surprisingly capable trail bike that's also ideal for adventure rides - long-distance social events which take in sealed and unsealed roads plus farm and forestry tracks, and so require a road-registered trailie.
However, the XT doesn't boast the long-travel suspension of a motocrosser, and though that's hardly a hardship cross country, it could use better compliance as it tends to pogo over rocks and bumps.
The 249cc air-cooled engine is no ball of fire, and gearing tuned for 100km/h highways en route to workis a tad high for the trickier stuff off-road.
So for this ride Yamaha replaced the standard handlebars with more rugged and slightly higher Renthal alloy items, altered the oil level height in the forks to suit my weight and the type of terrain I'd cross, and lowered the gearing using a GYTR sprocket out back with a rubber cush drive specific to this model.
They then bolted on some hand protectors to keep branches from flicking my fingers and a rear brake pedal snake to deflect bush that might catch in the footpegs. They lifted the front lower mudguard to prevent drying mud sticking the tyre to the guard and applied knobbier dirt tyres.
As a final touch, the rear passenger footpegs were removed and the standard indicators replaced by smaller ones. The result was a bike still capable of 100km/h, but stronger at the bottom end, where you need it when hauling up steep slopes or engine-braking down precipitous descents. Adjusting the forks helped keep the front planted, slightly offsetting a bouncing rear, while the higher bars made for a more comfortable standing position - so my knees became part of the suspension equation over rough ground.
The XT is, anyway, nicely balanced, and great fun on gravel and though it lacked acceleration over some of the other bikes at the recent Far North Adventure ride, that confidence let me overtake on loose surfaces, allowing more time to admire the view when the route allowed.
At 131kg wet it's not as light as more focused trail machines, but at $7948 (plus $953 worth of extras) it's affordable, and with an 810mm seat height and optional luggage rack it easily doubles as a commuter.
It would be interesting to try after-market suspension aimed at better compliance, and perhaps add the optional sump guard - but then again, those would add to the cost.
Given the XT has traditionally been a grandpa's axe, evolving slowly over time with each change a small, incremental improvement, I'd hope these are the upgrades to the new variant out next year.
ROAD TO ADVENTURE
Great scenery and great companions make it a great day out.
Adventure rides are rather like orienteering on road-registered dirt bikes: on-competitive cross-country events that introduce places you'd never normally see.
There's nothing like the views from some of New Zealand's farmland hilltops, or threading a thin sand track off Ninety Mile Beach to arrive on a rolling emerald-green lawn fringing a star compass, a vast ring of Maori carvings beside sheds of partly
completed oceangoing waka. Magic.
Angela and Mike Britton of Britton Adventures have organised rides in New Zealand, South
America, Mongolia and Vietnam and they're experts at negotiating access or setting routes to suit a wide range of bikes and riders, tracing easy-to-follow tulip diagrams.
These are social events so you'll find husbands and wives riding together, mums and dads bringing kids and, over the years, those kids turning up on their own bikes as adults.
The recent 20th anniversary Far North Adventure Ride included a 75-year-old on a 225cc road bike with dirt tyres, international extreme enduro expert Chris Birch with his mum and dad, all on KTMs, and a new generation of parents with their kids.