There are many ways to get a start in motor racing. Lying on the couch is one of them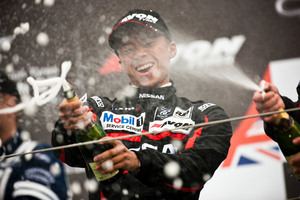 Jann Mardenborough arrives in Invercargill for this year's Toyota Racing Series with a unique sporting story. The Cardiff teen began his life in motorsport as a video gamer.
In 2011, Mardenborough won the Nissan-Sony Playstation Gran Turismo gaming competition, giving him the opportunity to attend the GT Academy. Coming out trumps there gained him a season of British GT racing last year, where he acquitted himself well on the real - as opposed to the virtual - track.
Mardenborough already has a tasty record in sports cars. He's won a race, been on the podium several times and put his car on pole.
The single-seater racing of the TRS is a new game, but the bloke appears to have all the tools required to feature.
Since its first season in 2005, the series has won a reputation as a proving ground for young drivers.
Such is its popularity around the world that only three of the 18 cars on the grid for this weekend's opening round at Teretonga will be piloted by Kiwis.
Last year's champion, New Zealander Nick Cassidy, is back from his European foray to defend his title with fellow locals Damon Leitch and Michael Scott.
This year he has moved from the successful Giles Motorsport team into a six-car entry from M2 Competition with new crew around him. That adds to the challenge.
"One thing every race driver has to know is how to relate to their engineer and mechanics," says Cassidy, "and to be able to communicate what the car is doing clearly to them."
Cassidy competed in several Formula Renault Eurocup races after FOR JANN, THIS IS THE REALITY THING
Jann Mardenborough on the track and - below, sitting on the left - with other graduates of the GT Academy.
winning the TRS title and tested a GP3 car. Back home, he substituted for the injured Greg Murphy in the V8 SuperTourers, winning his first outing in the big bangers at Taupo.
Leitch, from Invercargill, is on home ground for the opening round and will be keen to start as he did last year when he took an early points lead. This year he'll be looking to push on when his team hits the North Island tracks and improve on last year's third place.
The third Kiwi is 18-year-old Michael Scott from Te Puke, who has made the step up from Formula Ford.
The 15 overseas drivers are gunning to become the first series winner from abroad, and some have the pedigree to take the title.
The international drivers returning for a second bite of the cherry will be the biggest challenge for Cassidy and Leitch. They include Brazilian Bruno Bonifacio, Puerto Rican Flix Serralls, Brit Alex Lynn, Austrian Lucas Auer and Tanart Sathienthirakul from Thailand.
Serralls finished third in the British Formula Three championship, Lynn won the Formula Renault 2.0 UK championship in 2011 and recently took pole at the Macau Grand Prix Formula Three race, finishing third on debut. Auer finished second in last year's German Formula Three championship and Bonifacio finished third in the Formula Abarth European championship.
Sathienthirakul competed as a rookie last year's series after several years in European karting and raced in the Formula Renault 2.0 series.
Colombian Tatiana Calderon is the second female driver to mix it with the boys, coming fresh from a strong campaign in last year's European Open F3 series.
With Mardenborough, other newbies include 16-year-old Malaysian Akash Nandy, Norway's Dennis Olsen, also 16, Brazilian Pipo Derani, Australian Spike Goddard, Canadian Nicholas Latifi, Steijn Schothorst from the Netherlands, Singaporean Andrew Tang and Norwegian Dennis Olsen.