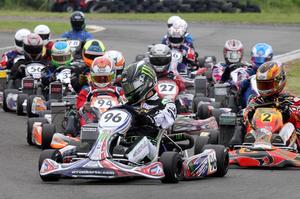 A six-strong contingent of Australian karters is targeting more Kiwi titles at the KartSport New Zealand National Sprint Kart Championship meeting in Hamilton over Easter weekend.

Queensland driver Lane Moore won the 125cc Rotax Max Heavy class title at the 2010 National Sprint Kart Championship meeting at Invercargill at Easter while top Melbourne driver David Sera won the 125cc Rotax Max Light title at the North Island Sprint Championship meeting in Hastings at Labour Weekend.

This year the pair are joined at the 2012 National Sprint Championship meeting at the KartSport Hamilton club's Agrisea New Zealand Raceway by fellow young guns James Sera (David's cousin), Mark Dorbolo and Ricky Capo from Melbourne and ageless veteran Remo Luciani from Horsham.

Traditionally New Zealand drivers have had their annual nationals meeting to themselves because Australia has usually also run its national sprint event over the Easter weekend. But this year Northern Territory capital Darwin is hosting that event in July, leaving the way open for a quick trophy hunting expedition across the Tasman.

"It's why you're suddenly seeing six of them making the trip this time," explains KartSport New Zealand Development & Administration Manager Robert Hutton. "The weather (in Darwin) is more settled in July so the Australians have moved their Nationals meeting to that month."

Of the six David Sera is by far the best credentialed, as the 21-year-old proved at the North Island meeting last October.
Not only is he a 42-time State champion and 12-time National champion he has also won the Australian 125cc Rotax Max Light title five years in a row.

His cousin James has also got an impressive track record across the Tasman, the 32-year-old a 22-time State and three-time Australian champion.

In terms of State titles no-one in the group can hold a candle to Remo Luciani, however. The 51-year-old has amassed 55 over a career spanning over 30 years in which time he has also won seven National titles, the latest in the Formula 100 class in 2010.

The other three drivers are not in the same league - yet - but Moore, a regular front-runner in Australia's Rotax Max class tour, proved what he can do on this side of the Tasman in Invercargill last Easter, beating Tokoroa's Bradley Tyrrell and Christchurch's Simon Hunter to the New Zealand 125cc Rotax Max Heavy title.

Capo, 16, is now a regular top ten contender in the KZ2 class across the Tasman, and though still feeling his way back into the sport after a break 21-year-old Dorbolo has one of the best possible mentors, David Sera's father George.

Close to 200 entries from across New Zealand - and Australia - have been received for this year's MG Tyres-backed National Sprint Championships with 125cc Yamaha Light the best supported Senior class with 30 entries and Junior 100cc Yamaha the best supported Junior (under 16) one with 24.

Ten separate class titles were be contested over the Easter weekend, with qualifying on Friday then Cadet, Junior 100cc Yamaha, 100cc Yamaha Heavy, KZ2, 125cc Rotax Max Light and KF2 on Saturday, and Junior Restricted 100cc Yamaha, KF3, 125cc Rotax Max Heavy and 100cc Yamaha Light on Sunday.

Three of the six Australians (Lane Moore, Remo Luciani and Mark Dorbolo) will be contesting the New Zealand 100cc Yamaha Heavy title. The others will be competing in 125cc Rotax Max Light (David Sera), 100cc Yamaha Light (James Sera) and KZ2 (Ricky Capo).