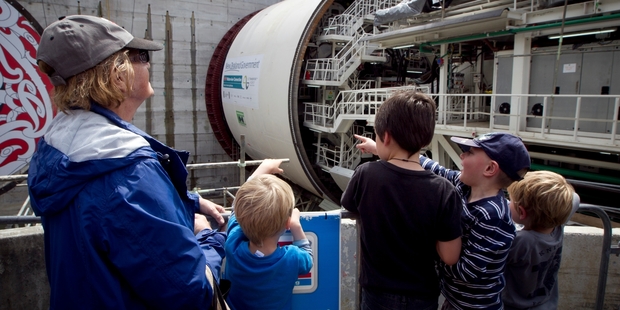 Three generations from a family of heavy machinery lovers were among the thousands who filed through the Waterview Connection constructions site yesterday to see Alice, the giant boring machine.
Allen Webber, 40, took along his two young sons Jake, 7, and Luke, 4, and his father, Murray, 73, who secured the tickets.
Mr Webber's father took a poster so the boys could learn all about the $55 million machine and its 700m long conveyor belt that will be used to extract the 800,000cu m of spoil from the twin tunnels.
Mr Webber, from Massey, said it was "awesome".
"The boys had a tonne of fun. They love all that kind of stuff, boys will be boys. I'm a builder and they love looking at all my tools and stuff."
And Jake, who goes back to primary school tomorrow after the holidays, would have a great story to share, Mr Webber said.
Other children got to write their names or messages on several concrete slabs that will eventually line the walls of the tunnels.
Named after Alice in Wonderland, Alice is the 10th biggest machine of its kind in the world; weighing in at 4000 tonnes it's also the largest ever used in the Southern Hemisphere.
Its job is to bore twin tunnels as deep as 45m beneath the surface, to pass below the hard-rock legacy of the region's volcanic activity.
Yesterday was the only opportunity for the public to see Alice before it starts being used for work on the $1.4 billion project later this month.
All of the 20,000 free tickets for the open day were snapped up with almost half of them being allocated in the first 24 hours they were available.
Those lucky enough to get one of the tickets got half an hour to view the machine up close.
Alice is due to begin her two-year underground journey from Owairaka to Waterview and back to construct the 2.4km twin tunnels, each of which will carry three lanes of traffic.
The machine has been assembled in the southern end of the tunnels which are being built to connect Auckland's Southwestern and Northwestern motorways. This will complete a 47km link between Manukau and Albany called the Western Ring Route.