As David Cunliffe adds his name to the leadership race, supporters choose their man.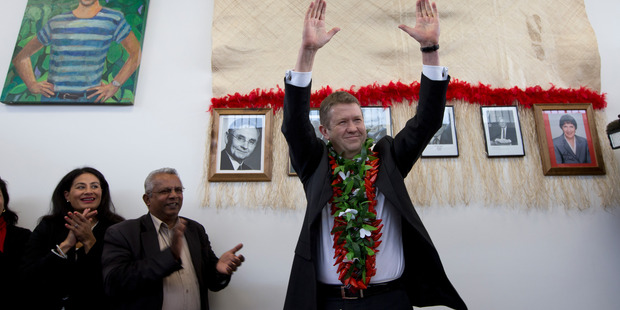 Several Labour MPs are openly stating who they support in the leadership race after David Cunliffe one-upped the other candidates by launching his bid with a string of his supporters in caucus standing behind him.
However, there is already a sour spot for Shane Jones - Mangere MP Su'a William Sio signed Shane Jones' nomination form for the leadership, but yesterday came out backing David Cunliffe. There were also rumours that Mr Cunliffe was offering positions to some MPs in return for their support. Mr Cunliffe has denied that but the rumours indicate the campaign might not be as clean as the party hierarchy is hoping.
Yesterday, Mr Cunliffe, flanked by five supporters and several MPs including Nanaia Mahuta and Louisa Wall, said he would go up against Grant Robertson and Shane Jones for the leadership.
Mr Sio yesterday confirmed he had committed to Mr Cunliffe last Thursday before he was approached about Mr Jones' bid on Saturday and he did not believe he should change his stance.
However, he had signed the form because he respected Mr Jones.
That will be a blow to Mr Jones' campaign - Mr Sio's support will be useful to tap into the party's membership votes in South Auckland and the Pacific community.
The support at Mr Cunliffe's launch will have helped cement the view he is the front runner. It also prompted other MPs to come forward in support of Mr Robertson, including Auckland Central based List MP Jacinda Ardern and Christchurch-based Wigram MP Megan Woods, who both signed his nomination form. Maryan Street also said she was supporting Mr Robertson. The MPs backing Mr Robertson said his sexuality was irrelevant to the job they were supporting him to do.
Dr Woods said that she and Mr Robertson were of the same generation and their politics were born from the same time as students in the early 1990s. "We share a common vision and he can be a unifying force."
Ms Mahuta hit out against Mr Jones on Waatea News, saying she did not believe the Maori caucus supported his bid.
Although Moana Mackey also supports David Cunliffe, Rino Tirikatene supports Mr Jones and Meka Whaitiri said she was undecided and would wait to hear them speak.
Ms Mahuta had stood as deputy when Mr Cunliffe last ran for the leadership and the Maori caucus, including Mr Jones, had committed to support her if Mr Cunliffe won that.
Other MPs in Labour, such as Kris Fa'afoi, said they did not believe MPs should try to influence the members' voting by stating their own positions and others are waiting for the roadshow meetings which begin in Levin on Saturday to decide.
David Parker is refusing to state his position this time, as are Annette King and Phil Goff.
The likely vote fall
David Cunliffe
Nominated by Nanaia Mahuta and Iain Lees-Galloway
Other likely supporters: Louisa Wall, Su'a William Sio, Moana Mackey, Lianne Dalziel, Sue Moroney, Carol Beaumont.
Grant Robertson
Nominated by Jacinda Ardern and Megan Woods
Other likely supporters: Maryan Street, Trevor Mallard, Phil Twyford, Kris Fa'afoi, Ruth Dyson, Chris Hipkins.
Shane Jones
Nominated by Rino Tirikatene and Su'a William Sio.
Other likely supporters: Clayton Cosgrove, Damien O'Connor.
Robertson or Jones
Annette King, Phil Goff, David Parker.
Likely to abstain
David Shearer.