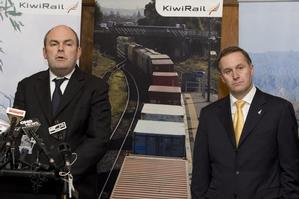 The Government has committed $250 million in Thursday's budget towards strengthening KiwiRail, with another $500m to be added in the following two years, but improvements to the backbone of the operation are likely to come at the cost of some minor rail routes.
Prime Minister John Key and Transport Minister Steven Joyce said today KiwiRail would need to provide business cases as to how the $750m would be spent, with the goal being to work to its strengths and become self-sustainable.
At a press conference at KiwiRail's Wellington headquarters, Mr Key reiterated the National Party's disappointment at the $690m price Labour paid to buy KiwiRail back from Toll Holdings in June 2008, and said the best long-term approach was to try to eliminate the need for subsidies and support it in becoming self-sufficient.
A "KiwiRail turnaround plan" was being worked on. "The plan aims to see the KiwiRail group become within 10 years a sustainable freight-based business that is able to fund its ongoing operating and capital expenditure from customer-generated revenue."
Mr Key said that would be challenging, but success would contribute to a wider plan of lifting New Zealand's economic performance.
The 10-year plan would cost an estimated $4.6 billion, but the "lion's share" of that would come from profits generated from the business itself following the initial kick-start.
KiwiRail chief executive Jim Quinn said a significantly increased amount of freight traffic was predicted in the long term and he was confident that improved infrastructure and rolling stock would result in rail being able to pick up an increased share of goods travelling on the main trunk between Auckland and Christchurch.
However, minor links such as Napier-Gisborne, the Far North, northern Wairarapa, and the Stratford to Okahukura (Taranaki to King Country) line faced closure unless evaluations suggested they could survive on their own.
"If there is an active tenant for them they will, if there's not we have to look to mothball them," Mr Quinn said.
Metro services
Mr Joyce said a shortfall on the metros - about $10m a year - was funded about 60 per cent through the New Zealand Transport Agency, and 40 per cent by ratepayers.
Discussions would continue to take place over how shortfalls would be made up - which included reviewing charges and talking with regional councils about their contributions.
Greater Wellington was being "very reasonable" in discussions to date, while the Auckland Regional Council was "a bit more excitable", Mr Joyce said.
He said a large amount of money was being put into upgrading the Wellington and Auckland networks already, to address problems of reliability and capability.
The Government has also committed to lending up to $500m for KiwiRail to get 13 electric locomotives and 114 railcars built to be operable in Auckland by 2013.
- NZPA