Prime Minister misses chance to trumpet economic strategy with vague statement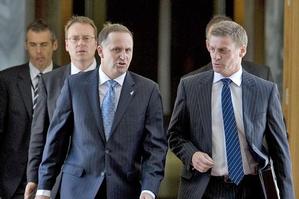 John Key deserves an A- for intent. But a mere D for the dreadful prime ministerial statement that buried a coherent economic agenda in a mass of confusion.
Key would have been scratching his head over why his 23-page statement to Parliament was almost universally dissed.
The PM did signal the rebalancing of the tax system that business wants. And plenty more besides, like a major investment in science and innovation and plans to drive sectoral growth.
He even put the Government's weight behind one of his own pet initiatives by asking officials to determine how to make New Zealand a hub for financial services in the Asia Pacific region, specialising in providing high-value middle and back office functions for the funds management industry.
Wealthy New Zealanders who have used various loopholes to rort Working for Families will face a crackdown, the Government will toughen up on the misuse of various benefits by malingerers and welfare bludgers, get the size of the core public service under control, put more weight behind the petroleum industry which is already our number three export earner, and boost education by ensuring more young Kiwis are trained in the trades.
This is all good stuff.
But it got buried in the confusion over exactly what the Government's intentions were on the taxation front.
The problem is Key used his speech to justify raising GST to 15 per cent to fund personal income tax cuts.
But then failed to confirm within the speech that either policy was a dead cert (although I am prepared to wager hard cash he will deliver on both policies or watch his credibility turn to zilch).
He also tried to create certainty on the property front by ruling out three particular mechanisms promoted by the Tax Working Group to crackdown on perceived taxation avoidance, which the IRD estimates cost the Government $150 million in 2008.
You would have to take Key at face value when he says (again within his speech) that his Government will address this issue in the May 20 Budget.
But he left property investors up in the air by failing to say exactly what measures his Government would announce.
Tax experts suggest these could involve any or all of the following options: Wiping depreciation on buildings (the Taxation Working Group estimates this could be worth $1.3 billion), putting rental losses in quarantine so they can't be offset against other income, restricting tax losses to $10,000, or, taxing all gains on residential properties after April 1, 2011.
The upshot is property investors - and prospective house buyers - were yesterday all aflutter as they played guessing games.
Some are likely to hold-off on making an acquisition until after May 20. Others will get out now in fear that property prices will take a drop after the Budget.
This is not great governance.
The PM's speech did say all other options mentioned by the Tax Working Group (apart from the three property imposts the Government rejected) were still on the table.
Theoretically this means if the Government raises GST to 15 per cent, netting itself an extra $2.3 billion, and also wipes depreciation on buildings to raise another $1.3 billion, it will have a total of $3.6 billion to play with.
This will be more than enough to fund a 30:30:25 option where the top personal and trust rates are reduced to 30 cents in the dollar and company tax dropped from 30 cents to 25 cents in the dollar. The Tax Working Group estimated this would cost $2.3 billion.
Even a 33:33.27 option, at a cost of $1.1 billion, would leave plenty in the kitty to boost returns for those on lower incomes, and raise benefits to compensate for the effects of the increase in GST.
But he did not actually mention cutting the company tax which the Tax Working Group had suggested was the single most important avenue to attract and retain investment in New Zealand.
The Prime Minister subsequently cut through the confusion on Larry Williams' Newstalk ZB show by indicating the Government indeed plans to raise GST and wipe depreciation. It is also planning to reduce company tax.
It's just a pity his speech was less definitive. Park that for a moment.
Underpinning the thrust of Key's speech are the results of the economic growth agenda exercise led by officials working for Economic Development Minister Gerry Brownlee.
Brownlee is keenly aware that if the Government is to succeed in its aim of achieving parity with Australia by 2025, New Zealand needs to post economic growth at an average 1.5 per cent above Australia's growth trendline over that period.
It's not a simple aim, as everybody from Key down concedes.
The PM reiterated again yesterday that at the heart of the Government's economic plan lies six main policy drivers: A growth-enhancing tax system; better public services; support for science, innovation and trade; better regulation, including regulations around natural resources; investment in infrastructure; and improved education and skills.
Brownlee's team has examined key sectors in the NZ economy and looked at whether they would boom if the Government simply got out of their way, or gave extra encouragement needed to help them grow further.
The aquaculture sector is a case in point. A taskforce has worked through options and the Ministry of Economic Development also played a role in getting other ministries aligned on a forward path.
Brownlee contends that the industry could quickly expand if it took up the challenge to be bold.
Another Brownlee initiative to fund a network of open access food development and commercialisation facilities across New Zealand also got the tick yesterday.
The Primary Growth Partnership will receive $40 million to boost New Zealand's primary, forestry and food sectors. This investment rises to $70 million in future years.
The Government is also investing in the Domestic Centre for Agricultural Greenhouse Gas Research and in the Global Research Alliance to drive much-needed research on agricultural greenhouse gas emissions.
Where the game gets more interesting is with increased support for new knowledge-intensive activities such as high-tech manufacturing.
Brownlee is excited about potential economic spin-off from the joint Australia-NZ bid for the A$2.5 billion ($3.1 billion) international Square Kilometre Array (SKA) project. The SKA comprises up to 4000 antennas spread over a 5000km baseline to create a single deep-space listening device.
Brownlee will have been feeling pretty chuffed yesterday. He was a key driver behind the push to ensure New Zealand leverages its mineral resources on the conservation estate, iron sands and petroleum and gas fields. Pity the agenda got buried in the initial confusion.