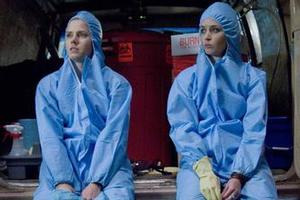 There was a buzz about Christine Jeffs' movie even before it was finished. Unfortunately it was coming from a box in the props department. Sunshine Cleaning is about two sisters who set up a crime scene cleaning business in their hometown of Albuquerque, New Mexico. So they had to have something that looked and sounded like it needed some serious cleaning up.
Hence the need for a box of blowflies for one gruesome aftermath in a trailer park. And these were no ordinary bugs, these were interstate insects and arguably the most Hollywood thing about the movie.
"That was disgusting," laughs Jeffs taking a break from screenwriting and farming duties at her place in Matakana. "I just remember when the courier arrived with the blowflies to put in the trailer park that was so weird. I guess it was cold in Albuquerque and they just weren't breeding at that time. We bought them down from LA. That actually was the grossest thing."
But while Sunshine Cleaning may find moments of black comedy in the mess left behind by the dead, it's really about trying to avoid making a mess of your life.
Its hard-scrubbing Lorkowski sisters, Rose and Norah, are played by Amy Adams and Emily Blunt - rising stars from either side of the Atlantic.
Single mum and former cheerleader Rose has found life hasn't turned out the way she hoped. She's still involved with her high school boyfriend who is married to someone else, her gentle oddball of a son Oscar may require medication and her job cleaning people's houses doesn't quite tally with her dreams. So to make some money, she starts up her own heavy-duty cleaning business with the undependable Norah - with a little help from their widowed dad (Alan Arkin).
The script, by first-time writer Megan Holley, got to Jeffs via producer Glenn Williamson with whom Jeffs had worked on her previous and second 2003 feature Sylvia - the portrait of the relationship between poets Sylvia Plath and Ted Hughes starring Gwyneth Paltrow and Daniel Craig, much of which was filmed in New Zealand. Holley's script had won a contest in Virginia where Williamson was a judge and he suggested it to Jeffs.
The story about the siblings was what grabbed the director.
"When I first read the screenplay it was more a balance of all the different family members and as a director you ask yourself 'why would I want to do this?' and the key factor was that it was about two sisters. I have a sister, I'm the older sister and I thought 'God what an interesting dynamic for me to explore'.
"So in a lot of our discussions and rehearsals was 'what does it mean to be the older sister, what does it mean to be the younger sister? What if you shared this experience and it affected you but you have never spoken about it since? How does that create tension in the relationship?' I kind of enjoyed that exploration."
When they were signed up for the movie, the two actresses weren't as high-profile as they are now. Adams was cast on the basis of her breakthrough role in Junebug and Blunt after her appearances in My Summer of Love and The Devil Wears Prada.
Veteran Arkin came through via the film's backers, having also made Little Miss Sunshine in which he also played the grandad.
That 2006 indie crossover hit also featured the word "sunshine" in the title, the prominent use of a van, a dysfunctional family rallying around their youngest member and folks from Albuquerque.
"I didn't think there were any similarities until they were pointed out to me," says Jeffs. "When I came into the film Little Miss Sunshine hadn't come out. So it was a film called Sunshine Cleaning and they had done a film called Little Miss Sunshine and that was like 'whatever - the writer of this film called it this for a reason'.
'With the success of Little Miss Sunshine and the timing of when our film came out I guess there are bound to be comparisons."
Arkin's Joe Lorkowski is not as as outrageous as Grandpa Hoover in Little Miss Sunshine, though at least he makes it out of this movie alive.
"I really liked his interpretation. Rather than playing a sad sack he basically gave the character all his dignity."
And the presence of young Jason Spevack as Oscar might also draw comparisons to another young freckled fellow - wee redhaired Jim who supplied the emotional punch in Jeffs' 2001 feature debut Rain.
"Yeah I know. It's the hardest thing, though, I tell you, to find a kid who can be real. There are a lot of kids who are coached very strongly who can say their dialogue perfectly but are on automatic. It's hard to get real with them and he's a lovely, lovely boy and with encouragement he was able to keep it very real."
For Jeffs the film presented her with something of a culture shock. Her partner-cinematographer John Toon had shot two previous American features but she had some adapting to do.
"Yes, nobody could understand me at all. I didn't realise there were so many words we don't have in common. It's pretty peculiar. People would just look at me - 'you mean the parking lot? You mean the trash can?' I'm like 'okay."'
And Albuquerque isn't the sort of America you usually see in the movies. But it entranced Jeffs.
"It's quite an eye-opener. It's high desert for a start but it's concrete jungle and it's full of strip malls. It's fast food and if you've been to LA or New York you don't see that side of America. It's one fast food joint after another, all these crazy neon signs and stuff.
"Everything to me was visually fascinating and when you are on a low budget shoot and there is a huge amount you have to do every day, there is not that much you can kind of put into a film that kind of has its own landscape. But for me it was amazing to work in that place and I just thought it was incredible."
The film debuted last year in Utah at the Sundance Film Festival, where it was in competition.
It had a limited US release in March where it generated good reviews and word of mouth, especially care of Adams' lead performance.
For Jeffs, Sunshine Cleaning gave her a chance to get out from behind the screenwriting computer where, since Sylvia she has been working on other projects including her adaptation of the Jane Smiley novel Horse Heaven - "it's a personal project that I am very passionate about" - and back behind a camera.
"You've got to direct if you are a director. You don't want too much of a gap and I haven't really been doing commercials because I've been focused on my film work and I have been for years.
"Directing is very practical. I don't think it's a good idea not to direct and come out 10 years later and go 'what happens between action and cut?' It's a bit scary and it's amazing how quickly you forget it. I am always going 'Oh my God I've forgotten again'.
"It's alright to sit and write endless screenplays but it is good to be directing. Yeah, I've done an indie American film - it's pretty much like doing an indie film here. It's low budget - you have to work hard and fast."
LOWDOWN
Who: Christine Jeffs, New Zealand director
Films: Rain (2001), Sylvia (2003)
Latest: Sunshine Cleaning opens at cinemas August 13