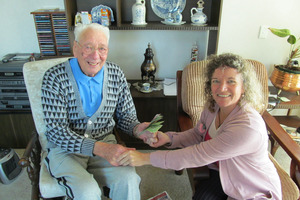 The Government is reviewing a voluntary code of conduct for wheel-clamping, which Labour and the Automobile Association want made mandatory, with a maximum $50 fee.
That is four times less than an existing $200 ceiling on clamping fees prescribed by a voluntary document which the AA says is toothless.
The code was drawn up last year after the motorists' organisation lobbied the Government for industry regulation, but has only five private-sector signatories, including three parking companies.
New Consumer Affairs Minister Craig Foss has asked officials to assess the code and to explore opportunities to expand it, potentially to cover other parking enforcement methods or to push for an industry-wide code.
"I am exploring options to allow more industry participants to sign up to the code," he said yesterday.
Asked by the Herald if it was fair for companies to charge motorists up to $200 for clamps to be removed from their vehicles, he said people were entitled to challenge such charges at the Disputes Tribunal.
AA spokesman Mark Stockdale says it seems "quite bizarre" clamping fees are higher than what a council can charge for towing vehicles, which under law can be only either $52.50c or $70, depending on time of day.
"Absolutely the clamping penalty should be less than the cost of towing - clamps don't cost a lot of money, whereas tow trucks do," he said.
He confirmed the AA had assisted Labour MP Phil Twyford when he was drawing up a private member's bill last year to regulate wheel-clamping and limit fees to $50.
The bill has yet to be drawn from a parliamentary ballot.
NZ Wheel Clamping owner Gordon Ward said he believed the code was being "pretty well adhered to" by companies signed up to it, although he accepted several were not yet covered. He called the suggested $50 maximum "a joke", saying it would not even cover his labour costs.
"The guy who has to take the clamp off the vehicle has to stay in the vicinity, so it limits his ability to do other work," he said. "There is also the cost of the wheel clamp." His firm charged between $100 and $200.
The comparison with towing fees was unfair, Mr Ward said, because councils "tow more cars in a day than I clamp in a week".
Tournament Parking, the subject of two Herald reports in the past week of allegations by motorists about unjustified clamping, says it charges only $50. But Mr Ward said it cost parking companies less to clamp vehicles in their own buildings.
Mr Twyford said wheel-clamping was a "scourge" in local communities and those involved in it should not have the right "to extort huge amounts of money out of people".

'Facebook friends' pitch in to help pay parking fine
Motorist Frank Nieuwenhuis has social media to thank for covering a $200 wheel-clamping fee imposed after he nipped into a barber's shop for a trim.
Local body election candidate and former Auckland Regional Council transport chairwoman Christine Rose raised the money from her Facebook friends after publicising the 86-year-old's plight. Ms Rose reported back on Facebook that the master accordionist and retired electrician wept and played a tune in gratitude.
But last night Mr Nieuwenhuis said he was still seething over being charged $200 for leaving his car for "exactly 10 minutes" in what he insisted was an unmarked space behind a row of shops.
"It was ridiculous - if I had parked on the main road and got a ticket, it wouldn't have been more than $30."
A voluntary code of practice includes a commitment not to clamp a vehicle that "has overstayed a permitted time by less than 10 minutes and is otherwise correctly parked".