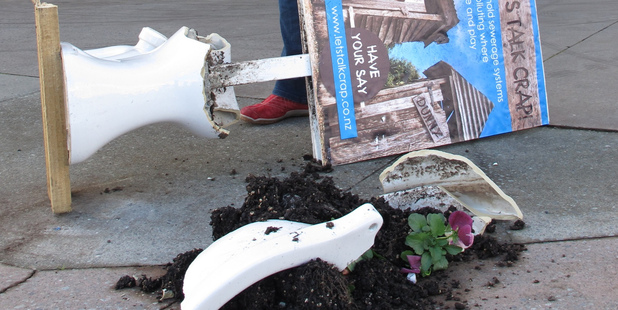 Stories making headlines around the regions include vandals targeting toilets in Kerikeri and Kaikohe residents want to reclaim their town from petty crime.
Vandals have been targeting the toilets in Kerikeri's Let's Talk Crap campaign.
Kaikohe residents are harnessing the power of social media to reclaim their town from thieves and taggers.
Leigh Peina says he "went nuts" when he found two men burgling his Papamoa home.
A young teenage girl phoned police and remained calm as she described suspected burglars in Kamo.
A pregnant thief in Wanganui has offered the courts part of her benefit to pay off the stolen goods.
A rare cancer has taken a 19-year-old girl in Rotorua within weeks of being diagnosed.
Life is good for the Foster family now - but they're aware that could change at any moment.
After 70 years, Doug Vahry is still enamoured with his wife Patricia.
A man told police 158 cannabis plants found on his Hastings property were there for medicinal reasons.
A woman plagued by cars crashing through her Te Aute road fence has won a six-year battle with the council.
The heavy flooding that cut people off from crossing the Waihenga Bridge last week is a sore reminder that a replacement is a while away.
The Otago University Students' Association is taking its fight for better-quality student flats to Parliament.
And finally a man has been caught driving at 199km p/h on a Ducati motorbike in Hawke's Bay.
Other stories making headlines around the regions today include:
Killer loses appeal against conviction.
Rotorua man admits violent robbery of tourists.
Free exhibit showcases our rare marine life.
Lone Kauri tree deemed a survivor
Crying foul over campers
Massive search to find fisherman's body
No reserve attracts bargain hunters