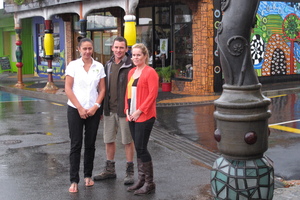 Stories making headlines across New Zealand at noon include residents who have had enough of the theft and vandalism ruining their town.
Kawakawa residents say they've had enough of youths dragging their town down by burgling businesses and abusing tourists.
Kaitaia businessman David Collard has appealed to Northland District Commander Superintendent Russell le Prou to give the police in his town the support they need to get on top of a months-long spate of burglaries and wilful damage.
Attention to detail is what a senior Hamilton Police officer is crediting his staff for after a man using a borrowed taxi was arrested following a burglary in Dinsdale early yesterday morning.
Some Rotorua parents are taking their pre-school children to daycare in a bid to contract chicken pox.
Fresh opportunities to prospect for oil and gas off the west coast of the lower North Island are likely to be well received, geophysicist Rosemary Quinn says.
Hawke's Bay gaming machine expenditure dipped 5 per cent in the year to March, with local punters spending nearly $2 million less on them compared to the previous 12 months.
More than 1000 cows on a large Taupo dairy farm were left dangerously thin, sick and "sad" after months of being underfed, a court has heard.
The success of Saturday night's pageant at Te Ahu guaranteed that it will now become an annual event.
It's not every day you rub a scratch-and-win ticket to reveal you've just picked up $175,000. But Taradale man Ivan Brown was far from leaping about with joy over his so-called big win.
The Bay of Plenty Cricket Trust has started building a new cricket block at Blake Park in order to stay in contention for hosting the Cricket World Cup qualifying tournament, even though it has yet to secure a $35,000 grant from the council.
Tauranga Chamber of Commerce yesterday appealed to Tauranga City Council to adopt a new vision statement to provide a new sense of purpose and direction.
More stories making headlines today:
Judges' website goes live
Heartbreak in Marton
Four flee inferno that guts Featherston house
International students staying away
More duck hunters break law this year
Drivers give woolsheds a wide berth