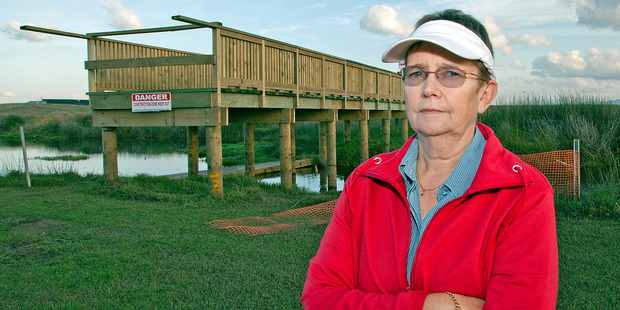 Stories making headlines around New Zealand at noon include a tsunami evacuation bridge leading to nowhere in Papamoa and a milestone for one of Rotorua's most popular attractions.
The bizarre sight of tsunami evacuation footbridges sitting unfinished and unusable has become a topic of scorn among Papamoa residents.
Rotorua's Skyline attraction is celebrating its 15 millionth luge rider.
Mahe Drysdale has come to the rescue of Marton factory workers.
A Napier winery is at risk of losing a valuable export order to Japan after vandals hit, spilling thousands of litres of wine.
It's fighting talk as Steak of Origin gets underway with claims that some of the country's tastiest and most tender sirloin steaks are being produced in Wairarapa.
But Northland plans to give them a run for their money by delivering steaks cooked to perfection.
Two men "doing the right thing" led to two Whangarei women getting their stolen car and property back, despite the gear being dumped well away from where the alleged thief tried to sell the vehicle.
40 jobs have been lost at Queenstown Lakes District Council.
A Dunedin dairy owner faces prosecution after filling resealable bags of cut-price synthetic cannabis, police say.
Wanganui resident Hiroshi Kato wants others to be on guard after he got caught out in a phone scam promising him plenty if he gave a little.
A 64-year-old South Wairarapa woman who died while snorkelling with her husband on Monday was Lynne Falk, of Te Awaiti.
Former Zion Wildlife Gardens operator Patricia Busch will have to wait to see if she has to pay around $122,000 in legal fees.
Charlotte Henare knows the danger and tragedy that driving while tired brings.
Other stories making headlines today include:
Deal puts cycleway to coasts on track.
Crash victims dad issues plea.
Josh draws a blank while job hunting.
Chance to shine for local women.
Mental health facility given green light.
Tributes paid to kind-hearted Horomia.
Father thanks woman who protected his daughter.
Critics condemn abortion service.
Tauranga eyes cup qualifiers.
Rotorua player named in lions squad.