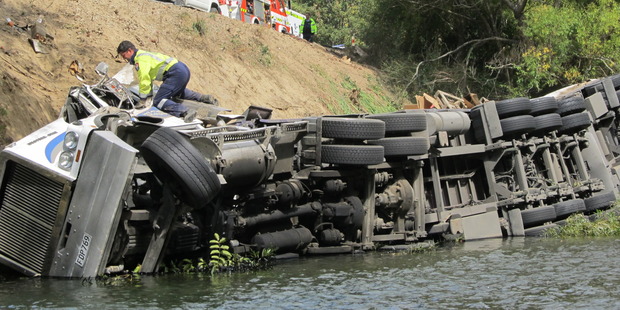 Stories making headlines across New Zealand at noon include a very large truck having a near miss with some children and two tourists ripped off in Taupo.
The son of the former drummer for Split Enz wanted in Australia for alleged cyber bullying has been defended by his father.
A truck has crashed through a barrier arm in the Waimana Gorge into water, only 50m away from swimming children.
Spelling isn't as important as it used to be, says a Wanganui principal.
Two English tourists were left with only the swimsuits they were wearing after returning from a swim in Taupo to find their van and possessions stolen.
Already hit by drought conditions, many Northland farmers could be facing a further feed shortage with palm kernel in short supply.
Hawke's Bay is expected to officially be declared a drought region this week.
Anglers are catching a range of fish species rarely seen along the Western Bay coastline, while others are disappearing.
A young Wanganui family has been split by the sudden traumatic illness of their 3-year-old daughter.
A volunteer firefighter pulled a man from a burning room at Blacks Point, near Reefton.
Top trending topics on Twitter in NZ at noon were #NZPGA, #MasterChefNZ, #CHIvCHE, #OperationMakeBieberSmile, New Zealand, Cheetahs, #V8SC and #Homegrown.
Other stories making headlines across New Zealand at noon were:
Cop took car keys off drink driver
Vege truck rolls
Mighty mum Katrina tries her very best
Kids seen without lifejackets
Petrol prices hit 6-month high for consumers
Smith wins Shears and crowd over
SPCA taps online market with Trade Me store
Title invalid, says paua poacher