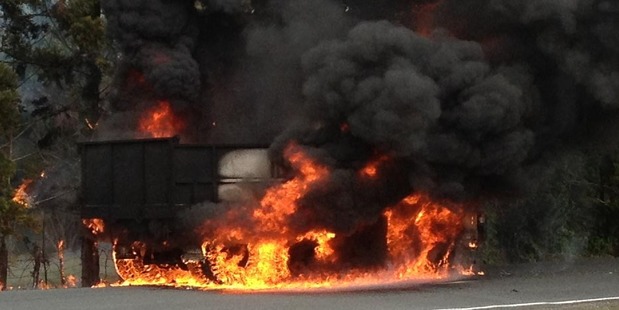 Stories making headlines around the region include exploding trucks in Northland, burning boats in kerikeri and naked kayakers in Tauranga.
A fierce blaze consuming a truck created a spectacular sight for Northland motorists heading home from work about 5pm yesterday.
A Kerikeri man spent a year looking for his family's dream boat - only to watch it go up in flames.
Two naked fishermen had to make a desperate swim to Matakana Island after their kayak sank in Tauranga Harbour.
At least 100 households have been putting their recycling out each week but the company they are paying to pick it up hasn't shown up.
March is melanoma month: Ivy Wade is celebrating surviving five melanomas by taking part in Relay for Life.
Hamilton Zoo's Sumatran Tiger Jaka has had a trip to the dentist.
A drunken man walked behind the counter at McDonald's Restaurant in Masterton early yesterday in an incident described by a staffer as "bizarre".
Christchurch man Garry Holden wants to catch up with the four inmates who bashed him senseless.
Mossimo Pekamu, the machete-wielding robber of a Raetihi takeaway bar, has been sent to prison.
A Dunedin man is alleged to have fired a number of shots during a domestic dispute with his wife in St Kilda last night.
Other stories you may be interested in:
Petty crime frustrates residents
Riders put at risk by drivers
Cancer victim: Our young survivor
Farewell to Marineland's Bart
Log truck accidents are too common in Northland
Aucklanders have a unique opportunity to see the Queen Mary 2 close up