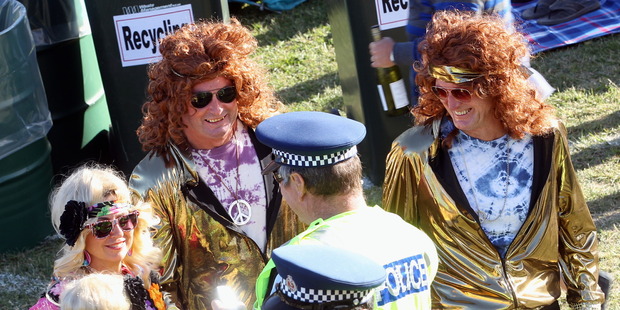 Stories making headlines across New Zealand at noon include the Department of Conservation chopping down a tree that stood for half a millennium and a first for drunken revellers at the Mission Concert.
The Department of Conservation has apparently chopped down a 500-year-old kahikatea tree so it could extend a nearby tramping hut.
For the first time in "many years" St John Ambulance officers and support crews have not had to attend to comatose people at the Barry Gibb Mission Concert.
A prominent scientist says rotting, putrid algae on Waipu Cove beach needs to be cleaned up before it wipes out local beach-dwelling marine life.
While the ash spewing from White Island has slowly eased, scientists will monitor activity next week before making a decision on downgrading the alert.
A fleeing driver reached speeds of 120km/h in residential Mount Maunganui and Papamoa while being chased by police.
Carterton is reeling from the tragic news that a second teenager from the area has died following a road crash in less than a week.
A record crowd of up to 40,000 fans could pack Forsyth Barr Stadium when Aerosmith headlines a major rock event in Dunedin.
A love for tattoos attracted thousands of people to the International Tattoo and Art Expo at the Claudelands Event Centre in Hamilton over the weekend.
The North Otago Agricultural and Pastoral Show Association has celebrated 150 years with record crowds and entries and an official launch ceremony conducted by the Governor-General Sir Jerry Mateparae.
Top trending topics on Twitter in NZ at noon were #HURvBLU, #normanifollowspree, #UFC157, Ralph Hotere, #NIXvREDS, Oscars, Blues, #masterchefNZ and Hurricanes.
Other stories you may be interested in:
Heroic Christchurch dog bites owner's attacker
Northland born artist Ralph Hotere dies
Helicopter crash lands on Lake Rotorua
Fun day for teddies and friends
Castlecliff dumping becoming epidemic
Slow balloon findings release is 'death by a thousand cuts'
Perfect start to Taranaki dog trial season
- nzherald.co.nz