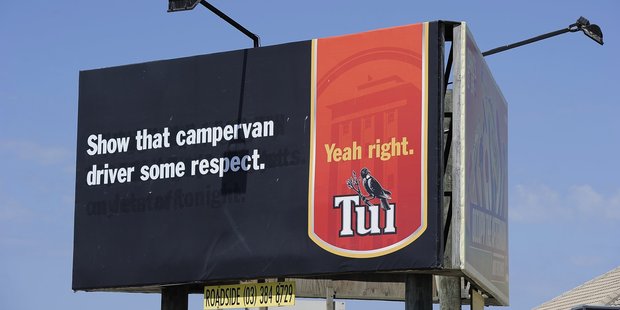 Stories making headlines across New Zealand at noon include a surprising visit from sharks in Hawkes Bay and angry campervan drivers.
Two underwater photographers were swimming around Hawke Bay when suddenly dozens of blue sharks surrounded them.
Does this sign stir up intense negative feelings about campervan drivers in you?
A Wanganui family dog is a hero after saving two children aged 2 and 4 from a house fire.
Nicole Patricia Harvey wasn't allowed into Heaven & Hell so she bashed the doorman.
Witnesses were shocked to see 14 to 15-year-old girls sleeping in the doorway of a Gisborne shop at 4am.
Authorities at Bethlehem College have accepted the Kenyan police's claim that a local man was driving a minivan that crashed and killed four people despite former student David Fellows confessing that he had been behind the wheel.
A bee is thought to have caused a log truck to crash.
The 1995 occupation of Pakaitore/Moutoa Gardens was a momentous time in the history of both Wanganui and New Zealand and a group believes it has got to be recorded.
North Otago SPCA workers are angry after six kittens were found dumped in a sack next to a railway track in Pukeuri.
Looking after the chicks orphaned by the mysterious deaths of adult yellow-eyed penguins on Otago Peninsula has become a full-time job.
Top trending topics on Twitter in NZ at noon were: #AirNZSMB, Teddy Goff, #wogistan, Richard Prosser, Valentine's Day, #Laugh, Wellington, New Zealand, Auckland, Muslims
Other stories making headlines this morning:
Ouch! Bootten skids off bike at 65km/h
Anger over flouting of fire ban
Neighbours help woman after home explosion
Stove sparks Masterton blaze as mum, kids sleep
Pick up a lonely pet for your loved one
Pope has left a lasting legacy
Napier set to talk the walk
Campers may get more freedom
Teen in daring surf rescue