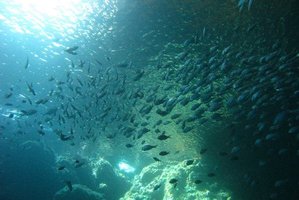 Stories making headlines across New Zealand at noon include an Auckland family caught by rangers feed fish in the ocean, a member of the public forcing an alleged drink driver's car off the road and Sam Taylor-Hill will "never, ever" forget the look on the little girl's face.
Department of Conservation rangers were carrying out a routine patrol at the Poor Knights Islands marine reserve when suddenly they came across an Auckland couple feeding bread to fish, or "wilfully interfering and disturbing marine life."
A concerned motorist has forced an alleged drunk driver off the road after he swerved across the road, straddled the centre line and drove up a roadside bank.
Sam Taylor-Hill will "never, ever" forget the look on the little girl's face, "she was so terrified and shocked."
Fans queue for tennis great Andre Agassi signing copies of his autobiography, entitled Open.
A Tokoroa dog on death row for more than two years with a bill nearing $80,000 in upkeep and legal costs has been sentenced to death.
Rosheene Thomson has managed to put 48c a week into savings to go towards Christmas and her daughter's birthday presents. Welfare payments are harder to live off than ever before.
Should they or should they not be allowed to hurl themselves off bridges - guess it depends if you're underneath them or not......
Nine illegal immigrants taken into police custody in Wairoa at the weekend will be deported.
Actor and broadcaster Dame Kate Harcourt will take to the stage, one last time, to share the story of her life.
A woman wants to know why authorities have not done anything about two dogs which savagely attacked and hospitalised her.
Human excrement allegedly deposited by freedom campers is still fouling the southwestern shore of Lake Hawea.
A Greymouth house was sold last year for the bargain basement price of $2200.
Top trending topics on Twitter in NZ at Noon were: #CallOutSomebodyBeautiful, #TimelessRadioMeltdown, North Korea, Ratana, New Zealand, Django Unchained and Antarctica.
Other stories making headlines across New Zealand this morning:
Six siblings admit attack
Rotorua barrister 'victim of mistaken identity'
Flavell has backing of Te Arawa leaders
Tauranga taxi driver bashed and robbed
Ritchie McCaw's supposed date 'deserves best'
Muso kicks off political year
Big dry has fire crews on edge
Changes force Masterton chemist merger
Worker trapped by ATV
Alleged groper helping police with enquiries
Fry up almost ends in tragedy