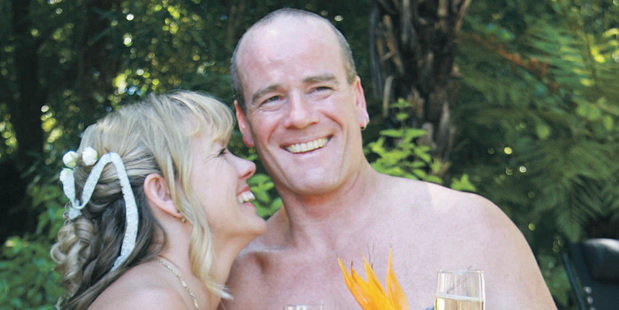 Stories making headlines across New Zealand at noon include a couple who decided to marry naked in front of 120 people, a man who accidentally ate maggot infested chops and what has happened to Buddha?
Wendy and Nick Lowe admit they had a few pre-ceremony nerves about getting married in front of 120 people while totally naked.
After eating maggot-infested lamb chops, Maurice Tomlinson says a refund and a $30 voucher will not make up for the experience.
Dog biscuits in the front driveway of Buddha's Kamo home may be a clue to his disappearance on New Year's Eve.
Meanwhile on Lake Taupo, four tourists were enjoying a ride in a hire boat in rough conditions when they were suddenly run over by Eruptor, an 8.5m motor boat which can reach speeds of up to 95km/h.
Wanganui District Council isn't aware of who is dumping what into its stinking malfunctioning wastewater treatment plant despite discharge consents being issued, and it now looks like some of the regions biggest employers may be temporarily shut down as a result.
A "grossly intoxicated" Cameron Fergus took a samurai sword to his mother's throat when she refused to hand over his car keys.
Oamaru police Community Constable Bruce Dow was parked up when two identical 4x4 vehicles full of Chinese tourists sped past him, allegedly reaching speeds of 148km/h while driving on the wrong side of the road.
And if you fancy a new life in Greymouth, a "cheap as chips" old villa is for sale at only $25,000 but it needs a bit of work.
Top trending topics on Twitter in NZ at Noon were: #ChamberOfSecrets, #TypeYourNameWithYourNose, Bowie, #DanielJ2013LiveTWITCAM, Kiss You, New Zealand and Harry Potter.

Other headlines across the country this morning include:
Motorcyclist killed near Dargaville
Taupo homes evacuated as bush fire rages
Thieves grab gear from beached bus
Safety concerns close Kaikohe pub
110 Kawerau mill workers being made redundant
Mixed results for Rotorua anglers this summer
Mayors dismiss warning about Bay of Plenty-wide council
Poll: Should Rotorua, Tauranga and Whakatane join together under a super council?
Fire risk raised to extreme as hot winds blow over Hawke's Bay
Fire risk keeps Wairarapa crews at home
Worthless-cheque scam surfaces in Hawke's Bay
Human billboard wants work in Wanganui
Holidays are no time to take risks with your sexual health
River, lake warnings as storm bears down
Tourists seriously hurt in gorge crash
'Moon man' gets weather all wrong
-Herald online