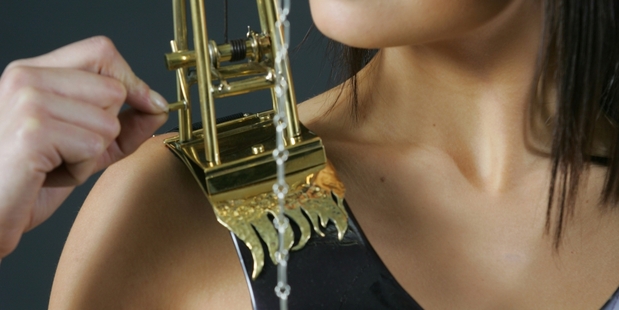 Stories making headlines across New Zealand at noon include strange lights in the Bay of Islands sky and bizarre bras.
Paihia man Rob Clarke swears the strongest thing he drank was a cup of tea and he doesn't believe in little green men but he's stumped by the lights he saw travelling across the Bay of Island's sky on Sunday.
Bizarre bras have come out from hiding in Rotorua and have apparently revealed the enormous potential for highly creative and witty reinvention.
The son and daughter-in-law of a Carterton balloon crash victim have endured a year of tragic losses since the disaster a year ago.
Children at the Pohutukawa Early Learning Centre in Carterton are really upset and don't really understand why anybody would want to steal their planter boxes.
An 82-year-old Dannevirke woman lent over to pull some weeds out but instead fell at least 30 metres down a cliff.
Debate is raging over freedom campers in Bay of Plenty after a camping ground owner said the industry had been "shafted big time" by the Freedom of Camping Act which allows people to park their motorhomes for free.
Rapper Diaz Grimm who is accused of handing out 100 cannabis joints to the crowd at Rhythm and Vines last week is apparently happy with the promotion created by the scandal.
Here's a very short but beautiful movie about the ocean.
Meanwhile in "Ponganui", a load of fat was sent into the Wanganui wastewater system on Saturday which floated to the top of the wastewater lagoon and turned rancid, adding to the big stink over the system.
And an advertisement for the Franz Josef Glacier Guides showing an image of a builder's "crack" has been deemed offensive.
Top trending topics on Twitter in NZ at noon were: #KissYouOnVEVO, #DanielJ2013LiveTWITCAM, #E3LovesYou, #nowplaying, New Zealand, Happy New Year, Harry, King Kong, #MentionAGoodCouple and #JanoskiansToNewZealand

Some other stories worth taking a look at from around the country:
Whangarei woman critical after assault
Sea Scout skills pay off for girls
Boy, 12, hurt in three-vehicle crash
Sallies question empty Rotorua houses
Mother and daughter aim for brighter year
Big waves roll in to make surfers' paradise
'Awesome' rain sets us up nicely
'Crotch kick' big hit for bidders

- Herald online