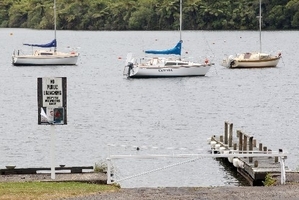 Stories making headlines across New Zealand at noon include a planned Maori blockade in the Bay of Plenty, a cow that apparently died a prolonged and agonising death and with summer holidays fast approaching where can you do some freedom camping.
A Lake Rotoiti hapu will blockade a private boat ramp tomorrow which is built on the Maori-owned lake bed until it is opened up to everyone.
This cow apparently died a prolonged, agonising death because a farmer had not properly fenced off the stream. (Warning: graphic image of a dead cow).
Here are some places you can park up for freedom camping in Hawke's Bay.
But freedom campers who do not follow the new rules face a $200 instant fine.
Born with a big birthmark across her face, eyes and nose, Zahnee Riley-Campbell had problems eating, walking and doing things normally, but the 7-year-old has just launched her first published book, Zahnee's Story.
All the toots and cheers from passers-by have been giving Api Theodore a real boost. Meanwhile police will be cracking down on noisy vehicles this summer.
"Alarming" number of plumbers, builders, electricians, and other tradespeople were spotted yakking on their phones while driving in Northland.
Meanwhile Northland has a high rate of a Third World disease.
The Rotorua cycling community is in shock after the death of Patrick Avery.
Tauranga police are hunting for a man who assaulted a young girl while she was walking to school.
A school bus and a ute have collided at a a busy intersection in Whakamarama.
Meanwhile a three-tonne roller being used for road works in Omokoroa suddenly burst into flames.
Parts of Hawke's Bay are rapidly running out of water. Meanwhile October was a record dry month in Gisborne.
Patricia Erica Paton claims she killed her partner and father of her three children, who had a history of domestic violence, in self defence.
There's been a dramatic drop-off in visitor numbers to Wanganui's Sarjeant Gallery.
More than 1000 domestic-violence reports were made to Wairarapa police in the year ended June 30.
The Whareama whitebait incident involved a whitebaiter blocking off more than half the river.
Here's some pictures from the Masterton Santa Parade.
Temporary ambulance bases are being set up throughout Christchurch.
A pistol was found in the abandoned car of dangerous gang associate Jackson Manson, sparking a manhunt.
Dr Jonathan Wright had legitimately earned $750,000 from ACC for his work travelling New Zealand doing patient assessments, but that wasn't enough.
Unimpressed and annoyed property developer Bob Robertson, of Wanaka, plans to ''crank up'' his new 1000-lot residential development near Christchurch.
Police are seeking legal advice on what to charge two men with after they allegedly slaughtered tame eels from the Willowbank Wildlife Reserve.
A 19-year-old Winton man had a lucky escape.
A Tongan family living in Oamaru are worried if they are deported their 4-year-old daughter will not receive necessary operations on her club foot.
Efforts to beautify the Oamaru harbour foreshore area in time for the Scott 100 celebrations in early 2013 have been hit with another round of senseless vandalism.
Meanwhile on the West Coast, a battle looms at the Punakaiki Beach Motor Camp.
Justin Paul Thornicroft stole $250 of sausages, a plastic rubbish bin and 3kg cans of curry powder, baked beans, corn and fruit from the Salvation Army, smashed a hole in a cupboard door, and then left the building.
Top trending topic on Twitter in NZ at noon were: #firstthoughtsaboutonedirection, #punctuationsongs, 5 Seconds of Summer - Out Of My Limit, #followmejennette, #fromthebottomofthestairstothetopoftheworld, Brendan Horan, #TheMoas, NZ First, Winston Peters and MSG.