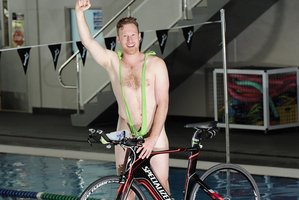 Stories making headlines across New Zealand at noon include a couple of invitations to get naked in various places, a jump to the right and a pelvic thrust spawns an honorary doctorate and a large shark visits swimmers close to shore at a Far North beach.
Rotorua Naturally is extending an invitation to visit, have a cup of tea or coffee, listen to some music and relax while totally naked.
Meanwhile 204 people are confirmed so far as wanting to skinny dip at Papamoa Beach, with some being bused in from Auckland, Hamilton and Rotorua.
Meanwhile the man who invented the 'pelvic thrust' is to receive an honorary doctorate.
As the kids played in the water at Paihia beach, someone suddenly noticed a large shark fin slicing through the water close to shore.
While Naked Bus driver Grant Gordon Banks was driving along yakking on his mobile phone he didn't notice the passenger taking photos of him.
Here's a video of a white kiwi chick hatching. Born at Pukaha Mount Bruce, it is still to be named.
Meanwhile TK the kiwi celebrated her 30th birthday with a worm-filled mud cake.
To raise money for his terminally ill mother-in-law, Mark Stride is turning to a Borat-style mankini.
After surviving the WWII Battle of the River Plate, a gun turret from the HMNZS Achilles is facing a new enemy.
Fancy some chocolate flavoured wine?
Three is not a crowd on this bike.
About 8900 motorists in New Zealand had their driver exams cut short because of critical errors, such as being involved in a collision, driving at excessive speed and ignoring instructions.
Kawerau's new college will provide school uniforms free to all students next year.
Hawke's Bay Hospital staff are angry.
A reprint of the Hawke's Bay phone book is, "unlikely" despite many complaints.
When Rebecca Moslen left for work yesterday the last thing she expected was to have to run for her life.
How would you forget to declare two ostrich eggs weighing 1.5 kilograms.
Minutes after lighting a scrub fire a 13 and 14 year old were sitting in a police car.
Forest workers are apparently turning to "legal highs" such as K2 to get around workplace drug testing. Meanwhile a Wanganui logging manager says while the industry may say it is well regulated and monitored, it sometimes falls short of the mark.
Meanwhile a market slump will swallow 70 timber industry jobs in Rotorua and Tokoroa before Christmas.
A Gisborne constable trying to police a cordon on his own found himself in court on assault charges.
New Zealand First list MP Brendan Horan is on full pay after being sent home to deal with what leader Winston Peters said were "deadly serious" allegations.
Baby Cory Francis has finished his first year teaching against violence in Rotorua.
A coroner has questioned how the 14-year-old killer of a Scottish tourist was allowed to roam the streets of Taupo after midnight with a baseball bat before the murder.
How will smokers cope with the price of cigarettes going up again on New Years' Day.
Police want to find a man responsible for a "cowardly attack" in Christchurch.
Meanwhile on the banks of the Waimakariri river there's apparently a car torching epidemic.
Just hours after being released from prison on driving and alcohol-related offences, an Otago man allegedly smashed into four parked cars and was charged with drink-driving.
Another cruise ship has cancelled a visit to Dunedin.
Andrew Hore apparently knows what it is like to let the nation down.
Stand by for late November snow in the South Island high country.
A proposal allowing for limited freedom camping at Waterfall Creek on Lake Wanaka's western shore has been rubbished by nearby accommodation providers.
Watch out for drivers dozing off at the wheel.
And over on the West Coast, the crowning glory of the new $7 million Mahinapua treetop walkway is in place.
Top trending topics on Twitter in NZ at noon were: #ThoughtsDuringSchool, #AskLijahSanford, #HobbitNZ, #eduignite, #ReeceToNapier, IRB, Peter Jackson, Wellington, Sri Lanka and LOTR.