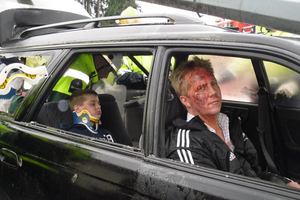 Stories making headlines across New Zealand at noon include youths terrorising an art gallery, thieves robbing the New Zealand Navy Band and two 19 year old Hastings women legless before lunchtime trying to get in to the races.
Tauranga Art Gallery staff have noticed an increase in the gallery walls being used as a urinal while youths are apparently terrorising visitors and staff.
While Navy Band members were taking part in a military parade through central Whangarei somebody broke into their bus and stole personal possessions.
Two 19-year-old women were put in the police detoxification cells by 11.30am on Hastings raceday after turning up "very, very drunk" and their male friends abandoned them.
People at the house tried to stop the man from riding the motorcycle, police said, but soon after he was dead. Meanwhile Hawke's Bay police are hunting the driver of a car they believe sped away from the "graphic" remains of a crashed BMW it was drag-racing.
Robberies are apparently now a common part of life for dairy owners. Meanwhile this wanted man may be armed and in Rotorua.
Ngongotaha Fire Brigade had to cut a Member of Parliament from a car wreck.
In Waikato, the instance of chlamydia was apparently down 26 per cent, gonorrhea was down 17 per cent, genital herpes was down 46 per cent and genital warts down 13 per cent.
In Hastings, a 22-year-old California man who apparently just got engaged died in hospital after being stabbed, with a female he lived with and may have been romantically involved with charged with assault.
All Black Grant Fox's mum never knew her young son had stolen a sheet and cut out the number 13 and sewn it on his black jersey.
Nick Ashton got a phone call on Wednesday to say he had won an all-expenses-paid trip for two to see the All Blacks play in London, but then was told he couldn't have it.
A Virgin Australia flight from Melbourne to Auckland was diverted to Tauranga due to dangerously high winds. High winds also prevented hundreds of cruise ship passengers from returning to Sea Princess.
A high-profile Hawke's Bay real estate agent and ex-Hastings district councillor is being investigated for an improper act while running an open home.
Like a well-oiled machine, the Poverty Bay A&P Show apparently purred. Well, except for that incident at the Ferris Wheel.
Meanwhile there will be no more town clock celebrations in Gisborne on New Year's Eve.
A 16-year-old Wanganui girl is traumatised following an attack at Castlecliff Beach dunes.
In Wairarapa, a car is stolen on average every four days. Masterton man Alex Tairoa had his Mazda 626 stolen while visiting his wife's grave.
Mid Canterbury got a drenching on Saturday.
Police have officially suspended the search for missing whitebaiter Victor Boraman.
A 16-year-old Christchurch schoolboy was competing in the Kelvin Hastie Memorial handicap cycle race when a passing truck offered the opportunity to get in its slipstream.
The Dunedin Public Art Gallery has never seen anything like it.
Over on the West Coast, there has apparently been a rush on passports since the Spring Creek Mine closure was announced.
Top trending topics on Twitter in NZ at noon were: #carrotconfessions, R.I.P Amanda Todd, #10ThingsThatGetsOnMyNerves, #marypoppins, #KIWIS, #Replace1DLyricsWithCake, #askatsunset, #AusvNZ
and #FollowMeKian.

-Herald online