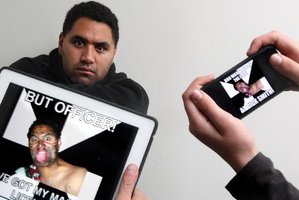 Stories making headlines across New Zealand at noon include people who claim they can talk to dead people, how your photo can be grossly misused on the Internet and that awful moment when you open the washing machine lid and see the cat.
This guy would have you believe he talks to dead people. But scientist Richard Dawkins is very skeptical of these types. Meanwhile inside Rotorua's morgue.
Adele Law lifted the washing machine lid to discover her six-month-old kitten had been through a full 55-minute wash cycle that included a rinse and two spin cycles.
Someone took a photo of Wharekahika Clarke and plastered it all over the Internet with slogans such as "Iwi stands for I want it!" and "Biggest marae in NZ - Mount Eden Prison". Mr Clarke is very angry.
If you're heading away on holiday, don't use Facebook to tell all the criminals you will be out of town.
Across town, as gang members attacked each other with baseball bats, fence palings and shovels, one of the men was run over by a ute.
Youthful joyriders led police on a long, low-speed pursuit while vomiting out of a stolen car.
This is New Zealand's best country pub.
Invalid beneficiary Sam Kuha is still on a hunger strike.
A World War II de Havilland Mosquito bomber has been buzzing over Ardmore. Meanwhile a Spitfire crashed at Wanganui Airport.
Rotorua veterinarians are seeing an increasing number of dogs suffering kennel cough. Meanwhile cats, dogs, a turtle and a guinea pig have been blessed at St Mary's Anglican Church.
Tauranga Hospital is battling a norovirus outbreak, while oil is still being found at Papamoa Beach.
Police borrowed a kayak to rescue a drunk woman who fell into Tauranga harbour.
Over on the East Coast, there could be oil and gas in Them Thar Hills.
Meanwhile in Flaxmere, a man died after apparently being wrestled to the ground and put in a "choke hold".
Up to 800 Hawke's Bay homes could be powered by the region's rubbish.
A swarm of earthquakes off the Gisborne coast is apparently nothing to get concerned about.
Meanwhile Stratford was apparently overrun with merriment.
Problems started for a natural therapy pilot programme for Wanganui Hospital staff when it was linked to wizardry and witchcraft.
It is too early to start thinking about Christmas, but not at Ashburton's community foodbank.
For 17-year-old Roy, the decision to leave his family behind was easy.
Meanwhile Prime Minister John Key is apparently not happy.
This is the most prolific speed-camera site in the South Island.
After smoking the synthetic cannabis product K2, Emily Holkenbrink says she was possessed by a demon and ended up in a psychiatric hospital after punching herself in the face.
The decision to settle a defamation claim against Dunedin Mayor Dave Cull by two former Otago Rugby Football Union officials has been described as a "gutless climbdown".
Spring has sprung and with it the realisation hiding the winter weight under puffer jackets is no longer an option.
The top trending topics on Twitter in NZ at Noon are the same as they were on Thursday and Friday last week and it appears to be broken.
For the record the topics are: #MyExTaughtMe, #QuestionsIHateBeingAsked, #ReeceSleepoverVideo, MySpace, New Zealand, GCSB, #shakeout, #FirstSleepoverWithReece, #SmallzyAskHarry and #thatonefriendwho

- nzherald.co.nz