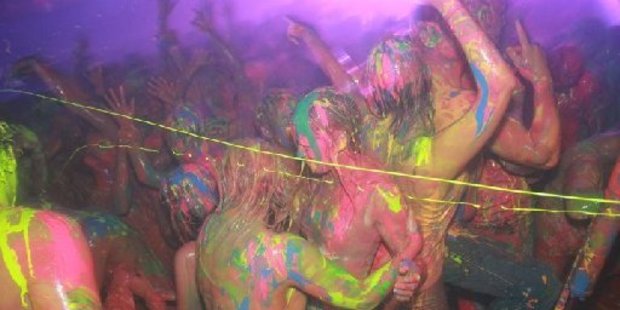 Stories making headlines across New Zealand at noon include a disco where people squirt paint at each other, a massive whale beaches on the east coast and if you think electronic smokes are healthy, you might have to think again.
Fourteen "promo girls" will squirt more than 100 litres of neon paint over a scantily clad crowd in a Rotorua nightclub tonight, where some of the participants "are stupid and some are all right, so we will see what happens".
After 60 years of roaming the open oceans, the 50 tonne sperm whale chose Mahia Beach as its final resting place. Meanwhile a tropical turtle that washed up on Ninety Mile Beach this week also didn't make it.
New research suggests electronic cigarettes could be doing more harm than good. Perhaps make your own health crackers instead.
Two weeks out from daylight saving and Northland have shivered through its coldest day of the year.
A Whangarei Maori immersion school is silent on allegations a teacher is being investigated for allegedly physically assaulting up to 10 children.
The curious nasties of the deep blue sea need not be a mystery any more.
The parents of 2-year old Sativa Eagle have taken their precious girl home to die.
Paul Holmes has been drifting in and out of an unreal world.
Apparently if you want to grow free range kids, then feed them backyard stories.
New Zealand's "first real boyband" Titanium is almost ready to start a New Zealand Tour.
Lambs are leaping, daffodils sprouting and grass growing, but spring has not truly sprung until the Hastings Blossom Parade.
The belly-button length hair of a brave Napier schoolgirl will be completely shaved off next month.
It's not clear why lots of McDonald's toys are being flushed down the toilet in Hamilton.
The Minister of Social Development Paula Bennett has apparently lost all connection with her roots.
The Greerton Fire Brigade went on a wild goose chase.
Hastings looks like it will get a movie theatre again.
New World Stratford is on the market.
Wanganui man Robert Julius was so drunk he did not know what he was doing.
Nicola Young has kicked off a community initiative for people to donate excess fruit from their backyard trees to the Wanganui foodbank.
Wrapping the cannabis oil in plastic bags smeared with Marmite and stuffing the bundle into a soft toy to be couriered to Christchurch didn't work for Lucy Nixon.
The Kuripuni toilets have finally been replaced.
After being accused of drink driving for the third time, William Cambridge Aspinall claimed he was not properly breath-tested.
Christchurch parents were panicking yesterday but it wasn't because of an earthquake.
The suddeness of moving as a result of the Christchurch earthquakes meant that children had very little time to say goodbye to friends.
The father of the four-year-old believed to have started a Tinwald house fire has refused to accept his 4 year old son is responsible. Meanwhile as of today the family desperately needs somewhere to live.
Do New Zealanders rate damage to their property more than the lives of young people?
Queenstown experienced a visitor boom during July.
Robin Reeves joined the old Westland County Council in 1985 - the same day as the first computer.
Top trending topics on Twitter in NZ at noon were: #TGIF, Christchurch, iPhone 5, New Zealand, Wellington, Auckland and Facebook.