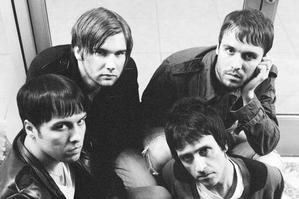 Johnny Marr can't keep away from New Zealand. The reserved guitar hero, formerly of the Smiths, played as part of Neil Finn's Seven Worlds Collide shows earlier this year and he's on his way back here with his latest band, the Cribs, in February. Originally made up of three brothers, Ryan, Gary and Ross Jarman, the likely lads impressed Marr with their single Hey Scenesters in 2006 and they asked him if he wanted to record some songs. Marr did more than that, he joined the band.
The Cribs, whose sound is a catchy, sometimes overwrought mix of the Ramones, Nirvana, and, funnily enough, the Smiths, play the Powerstation on February 27.
And speaking of guitar heroes, John Mayall, the leader of the Bluesbreakers in the late 60s and one of the most influential players on the blues rock scene, is heading to New Zealand in April.
Seventy-six-year-old Mayall and his band play nine shows throughout New Zealand in April, including Auckland's Civic Theatre on April 15, Napier's Municipal Theatre on April 16, and New Plymouth's TSB Theatre on April 18.
The Big Night In at the Kings Arms on January 14 - the annual show the night before the Big Day Out - will be headlined by the Veils, with support from New York-based rockers True Lovers, Cairo Knife Fight and Valedictions, a band made up of former D4 drummer Beaver Pooley and members of Pan Am.
Of special interest will be True Lovers, a band fronted by former D4 member Dion Lunadon and also including guitarist Ben Maitland, formerly of Boxcar Guitars and touring sidekick for Bic Runga. The band's new single, Death Threat, is a dirty slice of psychedelic swagger, and an album is due for release in March.
Lastly, there are two new additions to the New Zealand International Arts Festival with New York's Antibalas Afrobeat Orchestra to perform on March 9, and Texan singer-songwriter St Vincent (aka Annie Clark), formerly of the folk group The Polyphonic Spree, playing March 18 at the Pacific Blue Festival Club.