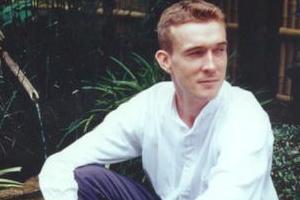 As the New Zealand Post Writers and Readers Week, part of the International Arts Festival, kicked off, Wellington was levelled by a massive quake. I'm an Aucklander, but even I would have found this extreme, had the devastation not been fictional. Ellie Catton - one of six writers sent out into the streets for a day with laptops, an itinerary, and instructions to spin a story out of whatever or whoever they ran into - won the audience's choice award at Once Upon A Deadline, by the simple means of reading her capital-laid-waste story Farewell aloud and getting the most applause.
Once Upon A Deadline was a lot of fun, drawing a huge crowd and generating several stories at or close to publication quality. For a single day's writing, in such venues as the Wellington Railway Station main concourse, that's impressive. It gave the main body of the Writers and Readers Week an excellent launch pad.
The next day the international talent turned up. There were so many pre-eminent writers in attendance that you could have put together a prestige publisher's dream list just using names starting with M: Ian McEwan, David Mitchell, Patrick McGrath, Paul Muldoon, Mayra Montero, James Meek and George Monbiot.
The Embassy Theatre sold out for several sessions and came close to it on others, and a couple of sessions - both featuring Nobel Economics Prize-winner Joseph Stiglitz - moved to larger venues.
What were all those ticket-buyers queuing up to hear? (Or, as David Mitchell put it on viewing the size of his near-capacity audience, "What are you all thinking? It's 9.30 in the morning!") Good writers are not always good speakers; many - especially poets, for some reason - are not even especially good at reading their own work aloud.
But nearly all these writers shone. Great care had obviously gone into finding the right people to interview them on stage, and ensuring there were enough readings to satisfy the bits of the audience who'd come for them, but not so many that the rest of the audience ended up starved of conversation.
Mitchell was especially charming, somehow managing to come across as dazzlingly clever and genuinely self-effacing at the same time. "I'm a lazy, ill-disciplined person," he told a group of senior secondary students who were bussed in for a special schools day. "Which would be a real problem if I didn't have something I love doing so much. I'd be writing right now if I weren't here."
He also remarked that it's better to be merely good than "to be brilliant in ways people don't respond to". He was speaking about his reasons for tempering the experimental bent displayed in his first three novels, but the comment seemed applicable to another guest writer, brilliant Canadian performance poet Christian Bok.
Bok has invented new languages for sci-fi TV shows. He's performed in avant-garde opera. He's written a book made of Lego, another in which every poem uses only one of the five vowels, and he is working on translating a poem into DNA, so that it can be injected into a nearly indestructible bacterium. His readings are spectacular, in that he uses combinations of sounds not normally found in any human language, and uses them very, very loudly. He avoids writing about the "trivia" of individual experience or social reality, and he annoyed me so much when I first heard him that I would cheerfully have infected him with his own immortal bacterium.
But - like the bacterium, perhaps - he grew on me. His poems are very, very clever, and I now own two books of them.
Ranged between Mitchell and Bok on the accessibility spectrum were too many good writers to cover comprehensively. Using my urge to go off and read or re-read their books as a measure of how much they impressed me, the high notes were Damien Wilkins, who was as interesting and as generous in making his private self accessible, as any of the international writers; George Monbiot, who drew frequent wild applause during a packed-out session on global warming; satirical cartoonist Garry Trudeau; the poet Paul Muldoon; food writer and critic Ruth Reichl; the New Zealand historian Anne Salmond; and British journalist and novelist James Meek. Meek is not a well-known face in this country - as became obvious when someone tried to sell him a ticket to his own session on the way into the theatre - but he was extremely perceptive and passionate discussing both his fiction and the war in Iraq.
The costs of that war are the subject of Joseph Stiglitz's brand new book, The Three Trillion Dollar War. The largest audience in the history of the Writers and Readers Week crammed into the Michael Fowler Centre to hear Stiglitz discuss this, and the economic downturn, with Rod Oram. In summary: Iraq is helping bankrupt America, and America may yet help bankrupt the rest of us. "The fundamentals in the US financial system are very bad ... we've only scratched the surface. The only thing that will partly save America is that we're going to export our problems to the rest of the world."
The audience groaned with audible disappointment when the Stiglitz session ended after a mere 60 minutes. But leaving your crowd wanting more is not the worst way to end an evening, and this was the only major error the organisers made the entire week. This International Arts Festival continues to be a jewel in New Zealand's cultural crown.