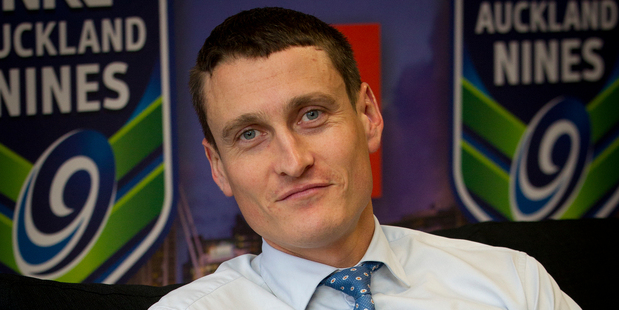 They'll be out to have a good time, but fans spoken to by the Herald say they aren't expecting to party like they do at the Wellington Sevens when they go to the NRL Auckland Nines this weekend.
Banker Sean Cunneen will ditch the prawn costume he wore at last week's sevens in favour of a minion suit (the little yellow characters in the Despicable Me movies) when he heads along to Eden Park with a group of mates this weekend.
One difference between the Auckland and Wellington events would be the level of pre-loading that took place, Mr Cunneen said.
"I don't think there's going to be those massive house parties that you get with the sevens," he said. "That's where it kicks off. It's great fun, too. I loved the sevens."
Auckland's nines tournament would offer more on-field entertainment than the Wellington Sevens, where much of the action takes place on the Westpac Stadium concourse.
"Definitely. I think everyone will be keen to see what it is actually like given it is the first time anyone will have seen nines. It's a pretty massive stadium and a different set-up to Westpac, so I think it will be a lot more controlled as to where you are sitting. Wellington is pretty much a free for all."
Nines officials have indicated they will take a hard line on intoxication. That news didn't bother Mr Cunneen, who said his group wasn't planning a day quite as "large" as the sevens.
"We'll definitely still be having a good time, though, that is for sure."
With 6000 visitors from Australia and over 18,000 tickets sold to Kiwis around the country, over half the crowd will be visitors from outside of Auckland. Wellingtonian Cameron Daley is meeting friends from Taupo, Masterton and a group of seven from Canberra for the tournament.
The 32-year-old marketer has had enough of his hometown's sevens tournament, where the sport on the field is largely a side show.
"We all love league and it is a little bit different," Mr Daley said.
"The sevens has become a bit of a meat market. We're all married and [or] engaged now. It was fun about six years ago but even then you'd go for a bit of fun and the sport. Now it's just an excuse to get drunk and dressed up, which is a bit of a shame."
Mr Daley's group will still be dressing up, however their costumes - Reno 911 cops - have a practical bent.
"I told my brother we needed something with pockets so we've got something to put our wallets and phones in. We don't want to be on show. It's not like we are 23 any more."
The group would also be drinking but would "do it in a way where you can still enjoy the league itself"'.
"We'll have a few drinks before we go in.
"We are not going to be sober for the whole thing, but we aren't going to get ourselves to the point where we are not going to remember it.
"It seems a waste of money to spend all that money on a ticket just to be thrown out."